FROM MT WILSON TO THE ANTENNA ATOP OF YOUR ROOF - Whether they were talking in a manic speed in-between songs, introducing some cool, hip music, delivering the worst possible news, or shouting down guests in an era before cable news made that a thing of their own, these were just some of the voices that made up the fabric of Southern California broadcasting. Whether on radio or television these broadcast voices were the sound of Southern California.
Okay, so the title is a little misleading (or, you could say clickbait-ish), because while we will always hear these broadcast voices live on, be it on the internet, on vinyl, VHS tapes, Beta tapes or cassette tapes, we will never hear these legends of Southern California broadcasting live and in a new, original form ever again.
Now, let us celebrate and remember the lives of these Southern California broadcast legends.
9 - Robert W. Morgan
"Good Morgan!"
What a better way to start the list of legendary Southern California voices than with the Boss Jock many of us woke with for many decades, Robert W. Morgan.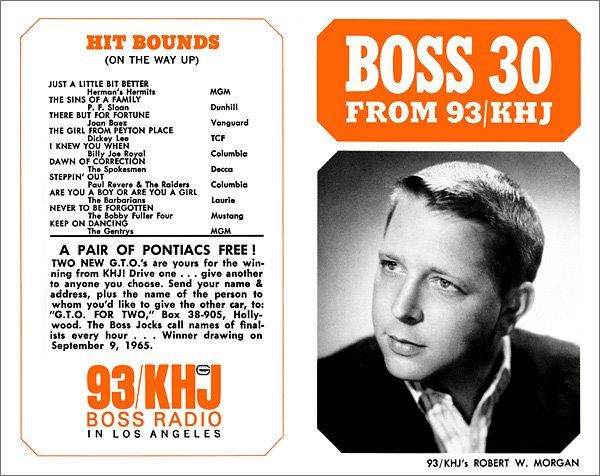 Herman's Hermits are on the way up on this "Boss 30" survey from 93/KHJ, and, do you know anybody who you want to give a new GTO to? Used under a Creative Commons license.
As the great Dick Clark once said during a retrospective of Mr. Morgan's life, it would seem Robert W. was destined for a life in radio as his parent's initials were, A.M. and F.M. Mr. Morgan's path to broadcast stardom began in his homestate of Ohio on the Wooster College radio station.
After moving from Ohio to Southern California hoping for some broadcast fortune it took Robert W. Morgan a little time to find his groove on the Los Angeles radio dial. Having to start somewhere in Southern California he took his one man act up the coast to Oxnard at KACY, broadcasting from the Wagon Wheel Bowling Alley during the overnight hours.
After Oxnard Mr. Morgan made some moves up and down the California coast, which led him to his first major gig in Fresno. While in Fresno sometimes The Morgan Man did the trip down then US 99 doing some fill-in work at KMEN in San Bernardino, otherwise known to many as, K/Men 129, where, along in Fresno, he made some important contacts with a guy who would one of the main architects of putting together this new radio station a couple years later in L.A. called, "Boss Radio, 93/KHJ."
"Zapped! You're Morganized!" Robert W. Morgan on 93/KHJ circa 1972.
The broadcasting industry is a weird industry in that from all the "big shots" to interns, everybody seems to know everybody at some point. Working around The Golden State for a few years Mr. Morgan made contacts with people who, along with Robert W., would very soon become major forces in broadcasting.
In 1965 it seemed "the stars aligned" and many people Mr. Morgan worked with in radio around California, in places like San Bernardino and San Francisco, came together to put together a new concept in top 40 radio at a low-rated radio station in L.A. Mr. Morgan was very highly recommended for the job as morning man, and so Robert W. made the drive down from where he was working at KEWB in San Francisco, and according to various sources including Mr. Morgan, ran out of gas before reaching the KHJ studios for his interview.
Much has been written about the coming together of "Boss Radio," and so the rest is broadcast history as Robert W. Morgan became a fixture on Southern California "Morgan" Radio.
Robert W. Morgan on a KABC-TV interview in 1996.
Whether you grew up listening to "Boss Radio 93/KHJ" in the Morgan, or some years later listening to The Morgan show on 710 KMPC, or you and your growing family tuned into that familiar voice on KRTH, better known as K-Earth 101, in 1990s, those quick-witted jokes and remarks made being stuck in a Sig-Alert a little less painful.
8 - Wally George
Flipping around the UHF dial in the late evening you probably came across an ultra-liberal debating with the ultra-conservative Wally George (wearing something atop of his head that may or may not have been a hairpiece) with Wally jumping out of his chair shouting down his guest all while the crowd is shouting, "Wally!" "Wally!" "Wally!" broadcasting out of what looked liked no more than a cable public access studio. Of course it was not a public access studio, but rather the Anaheim studios of KDOC, channel 56, and the television program was Hot Seat starring Wally George.
Rick Dees on a 1988 episode of Hot Seat throwing some pies around.
Even though KDOC over the years attempted to have local news for Orange County, along with other local O.C.-based programming,
KDOC never could quite pull it off. Frankly, KDOC had, until somewhat recently, from their television shows to its own on-air graphics, a very small market television station feel to its whole operation. Perhaps it is because of this KDOC is probably forever going to be known as "The Wally George Channel." (Though still licensed to Anaheim in recent years KDOC has shed its O.C. identity and branded itself as a L.A. channel, and has no O.C.-based programming).
In hindsight Hot Seat seemed like an odd mix of, The Jerry Springer Show, The Colbert Report and The Joe Pyne Show. Over-the-top political opinions, lots of shouting and yelling to get the point across, a super patriotic set and lots of staged fights and antics with guests "suddenly" breaking Wally's desk, or throwing pies in somebody's face.
The way we all remember Wally George in this publicity shot.
Wally George was one of those things almost uniquely Southern California, and perhaps because of that on many of his shows he had several local radio personalities on, such as Jim "Poorman" Trenton and Rick Dees.
Over the years there were attempts to syndicate Mr. George's show nationwide, but the show that was Wally George just never took off outside Southern California.
Even during his popularity and onto the 1990s the show never seemed to improve or update its production values from something other than a public access looking show (maybe that was a reason Hot Seat never picked up traction in syndication), but perhaps that is what ended up making Hot Seat and Wally George a charm.
Depending on who you ask the Wally George on KDOC was nothing more than an utter act, and other people say that Mr. George may of held these views, but found a way to have fun with his show while presenting those views.
Whatever the case may have been after years of trying to find footing on local television in the 1970s, including co-hosting The Sam Yorty Show with the former L.A. mayor (and sometimes filling in on that program as the sole host) and hosting a talent show, both shows on KCOP, and appearances on AM Los Angeles with Regis Philbin on KABC-TV, Wally George finally had his own television show, and it ended up be a very memorable television program.
7 - Hunter Hancock
"Let's go Huntin' with Hunter!"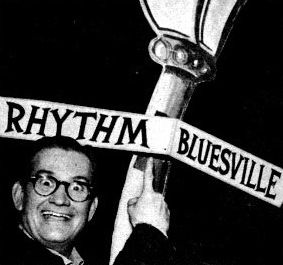 It is the one and only Hunter Hancock in a publicity still for his short lived 1955 KNXT television show, "Rhythm and Bluesville."
Though Hunter Hancock had left radio many decades before his death in 2004, he left behind many teenagers wanting these rhythm and blues records he played on his nightly KGFJ show. The music was something new, and it is believed Hunter Hancock was the first broadcast deejay in the Western United States to play this new kind of music that came to be known as rock and roll.
It is the call for some new music. Sadly there are not many airchecks floating about showing Hunter Hancock doing his thing on the radio.
Perhaps because he left radio in 1968 going into the world of public relations and leading a rather quiet life it sometimes (sadly) seems history has forgotten Hunter Hancock and his impact in not just broadcasting, but shaking up the L.A. music scene. It is very important that Hunter Hancock is not forgotten, because, Mr. Hancock brought a new form of music to the airwaves of Southern California, which was called (sometimes, sadly, as a pejorative), "race music." The teenagers loved the music, but, sadly, having a radio show playing nothing but rhythm and blues Mr. Hancock received some not-so-nice telephone calls, telegrams and letters about playing this "race music" their kids were listening to.
In the end the good outdid the evil as Hunter Hancock's show became a major radio hit in the ratings and expanded to 3 1/2 hours, and soon Mr. Hancock hosted a series of "Midnight Matinee" shows at the Olympic Auditorium and the Orpheum Theatre.
Hunter Hancock was so popular at one point he had his own Friday night television show on KNXT (now KCBS-TV) in 1955 interviewing rhythm and blues artists like Fats Domino, which was a pretty big deal.
It is "Ol' H.H." doing a record hop in East Los Angeles circa 1960.
In many ways Hunter Hancock was the Alan Freed of the West Coast playing this exciting new music on the radio and putting on shows (and upsetting the establishment). Like Alan Freed by 1962 Mr. Hancock was caught up in his own payola scandal with authorities saying Mr. Hancock failed to report $18,000 in cash from various record promoters, but he claimed the cash was simply a gift. Mr. Hancock was given probation by the court, and the end result did not ruin his life unlike, sadly, that of Alan Freed.
While Mr. Hancock remained at KGFJ until 1968 he did not really like the direction radio had be going in for sometime, and by that what "Ol' H.H." really meant was he did not like being told what to play or say. So Mr. Hancock played the records he liked at home and got a job in public relations to pay the bills.
Long after introducing rhythm and blues, otherwise known as rock and roll, to Southern California radio and putting on some big shows, and moving into public relations, Mr. Hancock retired to Claremont.
6 - B. Mitchel Reed
A cool, hip cat with the fastest tongue in the West was was a deejay named B. Mitchel Reed. Depending on when and where he sometimes went by "BMR" or Beemer." It was BMR who was there at the birth of two very different forms of radio riding the waves of post-war Southern California suburban teenage angst, and later becoming Southern California's broadcast voice of the Beat Generation.
In the late 1950s if you were a young kid living in a brand new suburban home in this new town called Lakewood, or maybe living in a new subdivision in the San Fernando Valley, chances are on your transistor radio you were listening to the fast sounds of "Color Radio, KFWB Channel 98!"
Bad news, this is neither an aircheck from KMET or KFWB, but WMCA in New York. Finding a BMR aircheck during his early years at KFWB seems a bit hard to come by, but we hope this gives you an idea of his early KFWB days.
As music had been changing, along with some restless post-war suburban teenagers, a radio program director named Chuck Blore brought a high-energy personality format to 980 AM KFWB in 1958 aimed at these antsy teens, which the music would be second to the deejay personalities. One of the fast talkers was B. Mitchel Reed, whom from 6 p.m.-9 p.m. was soon number one.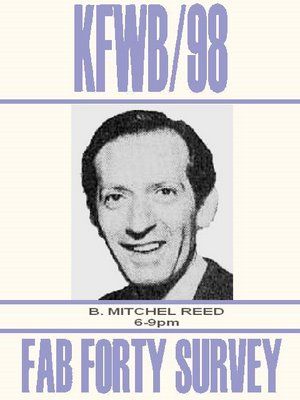 It is B. Mitchel Reed in KFWB's top 40 glory days long before they took one of the World's longest news breaks. Used under a Creative Commons License.
What made the music secondary were the deejays had fun personalities and the radio jingles were about as long as some hit songs. Though Mr. Reed had previous been hosting a jazz show on KFWB prior to the flip to "Color Radio," BMR found a way to have fun with the new format.
Mr. Reed would return to his hometown of New York in 1963 and take on a very similar role on a very similar station, becoming one of the WMCA Good Guys, and after a couple years Beemer returned to L.A. and KFWB in 1965. By 1965-66 some big changes had been happening in music and society, and around parts of Southern California some new scenes and changes in society were happening, and BMR, who maybe spent too much time in Greenwich Village, really felt and recognized these changes upon coming back to L.A. The Beemer was not quite the same person he was just a few short years ago.
It seemed on Mr. Reed's return that KFWB seemed a little out of place compared to what was going on outside the studios, and it hardly help matters, as far as KFWB was concerned, that on L.A. radio just a flick down the dial "Boss Radio 93/KHJ" was now the king of L.A. top 40 radio.
Mr. Reed, born Burton Mitchel Goldberg, realized music and culture was changing. Little by little this experimentation was happening on BMR's KFWB show, and it probably was not a bad thing for KFWB as they were losing a three-way top 40 battle between 93/KHJ and 1110/KRLA. However, by 1967 it was a little bizarre to hear B. Mitchel Reed "rap" like a Greenwich Village coffee house poet, and then play one of those classic, long-winded (very out of date sounding) KFWB top 40 jingles, which led into the whole seven minute version of "Stuck Inside the Mobile With The Memphis Blues Again" by Bob Dylan.
The problem was the sound of the Beat Generation was not transiting too well in confines of top 40 radio, and surely there had to be an outlet for it somewhere. After all, man, where on the radio can you say what's on your mind and play some Dylan?
By way of meeting fellow disgruntled top 40 deejay Tom
Donahue at the Monterey Pop Festival Mr. Reed discovered their common frustration with modern commercial radio restrictions, both the music and what the deejay can and cannot say. BMR heard what Mr. Donahue had going on in San Francisco at some FM station. Mr. Donahue found a radio station in San Francisco that could not seem to pay their bills, and Tom came to them with an idea. This new sort of music idea seemed to work, and it brought some money to the troubled station. Back in Southern California, and with the help of Mr. Donahue, Mr. Reed made some calls and found a little FM station that was having its own problems and little programming to air, and BMR asked around if he can do his thing and see what happens. Beemer made the switch from AM to FM over to KPPC-FM, located in the basement of Pasadena
Presbyterian Church
on 106.7 FM on the dial.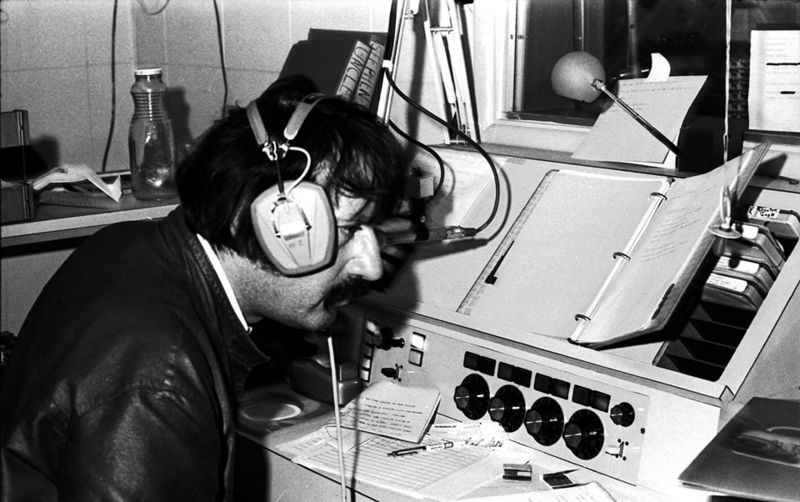 With the hair grown out BMR is saying what is on his mind and playing some tunes in between in this circa 1970 photograph. Used under Creative Commons license.
Radio's beat poet of the Beat Generation finally found a place on the dial.
Here is Beemer as he made the full transition from fast talking top 40 deejay to underground radio icon in this circa 1969 KMET aircheck.
Playing music record companies were not pushing, music not ordered by playlists, saying whatever is on the deejay's mind and playing no jingles a new form of radio in Southern California was born, called "underground radio." B. Mitchel Reed was there playing and saying something that spoke to those people who maybe felt out of place in the suburbs, or the hippies along the Sunset Strip, or those hanging out in L.A.'s canyons. Underground radio became a success and was very soon commercialized to became known in the radio industry as, "Album Oriented Rock," or AOR.
B. Mitchel Reed rode the wave from underground radio to corporate AOR moving from KPPC to Metromedia's KMET and, until his death in 1983, ABC's KLOS.
5 - Huggy Boy
For years to come there will be some debate on just who first brought rhythm and blues to the airwaves of Southern California. Depending who you ask some will say it was Hunter Hancock, but, ask some other people and they will say it was Huggy Boy. Both Hunter Hancock and

Richard James Hugg, better forever known as Huggy Boy, had plenty of records to choose from as many times they both did their radio shows from Dolphins of Hollywood.

Passing along Dolphin's of Hollywood and that deejay playing all those records is none other than Huggy Boy. Date of photograph unknown.
So, just who first played rhythm and blues over the L.A. airwaves? Well, suppose it depends who you ask and who is writing their biography, which is a nice way of saying that answer will not be found here.
Huggy Boy was a major success on L.A. radio in the 1950s and he had his own record label,

Caddy Records. Of course that led Huggy Boy to promote many shows in L.A.
Here is a news story on Huggy Boy by Suzanne Reynolds that gives some fun insight into the World of Huggy.
As the 1950s gave way to the 60s music was changing, and Huggy Boy was there to help bring some new sounds.
While B. Mitchel Reed was cultivating a sound for those on The Sunset Strip, Hollywood and canyons Huggy Boy brought a sound, later known as the Chicano Rock movement, or "Eastside Sound," to Southern California's Latino population in East Los Angeles, The San Gabriel Valley, Santa Ana and parts of the San Fernando Valley, amid many other places. Of course Huggy Boy's "Eastside Sound" greatly influenced other culture and ethnic segments of Southern California (and even Frank Zappa).
Just how important was Huggy Boy's influence in the "Eastside Sound"? Well, Huggy Boy often referred to himself as, "the Dick Clark of the Chicanos."
For a time there was even a television show on KWHY-22, "The Huggy Boy Show."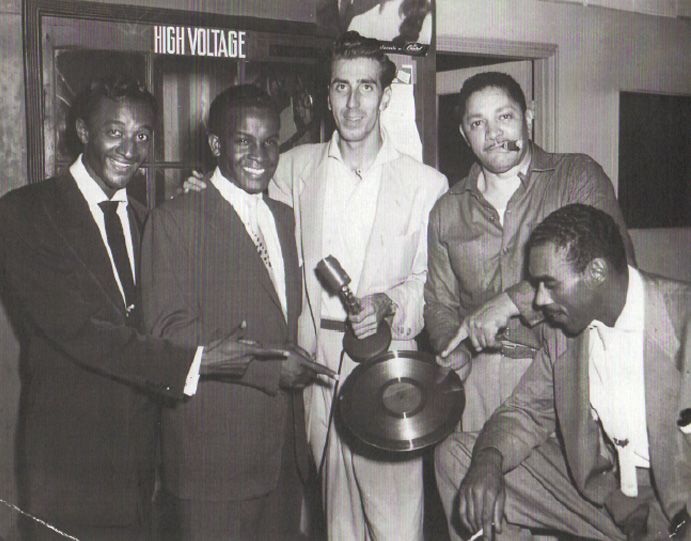 John Dolphin and Huggy Boy. Photograph by Jamelle Dolphin and used under Creative Commons license.
Huggy Boy was quite the success throughout the 1950s and into the mid-1960s, and making quite a bit of money doing so. However, as broadcasting changed in the 1960s and 70s Huggy Boy had some problems staying afloat as radio gigs were becoming hard to come by. In the 1970s things were so bad that his record label and promoting shows were not paying the bills, and so he went into a new venture to make some cash, opening a strip bar in Hollywood.
In 1985 Huggy Boy told the Los Angeles Times that, "I made $146.88 a week after taxes ... I never wanted to commit suicide or anything, but it was kind of degrading at times. You just keep searching and searching, hoping something will break."
Never giving up hope is what Huggy Boy was saying, and his talent shined through again thanks to a well connected friend, and it was the rebirth of a legendary career.
In 1983 on 1110 AM a legend rose again on KRLA when, with the help of another Southern California broadcast legend, Art Laboe, Huggy Boy was back on the airwaves, and it would end up being his longest, and perhaps his most memorable radio job.
Not too sure about the year of this KRLA aircheck of Huggy Boy, but it is a pretty good idea what many of us looked forward to in the evenings on our transistor radios.
Huggy Boy's show on KRLA brought a lot of rare oldies to the airwaves from 1983 until KRLA's end in 1998. Perhaps most interestingly is Huggy Boy and his unique, rare music collection was turned on to a whole new generation of listeners, and record collectors.
Huggy Boy's show on KRLA in the 80s and 90s was a fun show that stood out amid the increasingly corporate sounds of commercial radio. One of the charms of Huggy Boy's show was he sometimes did not always have that perfect broadcast voice, or sometimes he stepped over the vocals while talking up a record.
Sometimes between the songs there would be some rambling, and sometimes Huggy Boy had fun with the whole request and dedication thing.
Following the Telecommunications Act of 1996, which profoundly deregulated how many radio and television stations one corporation can own, CBS ended up buying KRLA in 1998. CBS also owned K-Earth 101, which was also an oldies station. Likely in the name of avoiding any potential competition, even though KRLA was very much an "Eastside Sound" oldies station as opposed to K-Earth, which was a general oldies station, CBS ended the oldies format on KRLA turning 1110 AM into a talk station. While some people were out of a job, as is the nature of broadcasting, Huggy Boy was, to the genuine surprise to many in the industry, given a nightly spot on 101.1 FM, which is a very coveted position in L.A. radio.
While it was a very generous gesture on CBS' and KRTH's part, The Huggy Boy Show on K-Earth was not quite the same, to say the least. In 1998, as it is now, K-Earth had a very highly restrictive oldies playlist, and Huggy Boy was only able to play one tune from his unique oldies collection only once a hour. As listeners to the radio station at 101.1 FM know, K-Earth is a very tightly run on-air operation, which for Huggy Boy meant his sometimes fun rambling between the music, or during requests and dedications, was greatly limited.
In the end, Huggy Boy, along with being the first (or second) to bring rhythm and blues to Southern California, brought the "Eastside Sound" to a much larger audience and gave many generations many memories.
4 - Jerry Dunphy
"From the desert to the sea to all of Southern California," you knew right away who was talking on television when you heard those words. Jerry Dunphy had a signature voice and look that seemed to defy age. As Mr. Dunphy flipped around the L.A. television dial there was a timeless quality to his reporting.
It is Jerry Dunphy and his famous greeting in this 1979 KABC-TV "Eyewitness News" opener.
In the middle of the many disasters that have befallen Southern California Jerry Dunphy was that very firm, but calm news anchor.
Jerry Dunphy's career was filled with a lot of firsts and surprises.
In 1960 Mr. Dunphy drove his Volkswagen Beetle from Chicago to L.A. on the word that he will become apart of something new in television news at CBS' L.A. station. Soon after arriving at Columbia Square Mr. Dunphy found out he would be the news anchor in something totally unheard of in television news, a one-hour evening newscast. Today local television has many hours of local news, but back then the typical newscast was 15 minutes. There were some newscasts that went all out for a massive 30-minutes.
In something that made CBS brass a bit nervous its L.A. owned and operated channel wanted to do a full hour newscast. In 1961 KNXT, as KCBS-TV was then known, did a 45-minute newscast, which led into the CBS Evening News, which was then 15-minutes.
It would not be until September 1963 that KNXT went a full hour of local news, which was called, The Big News.
With Jerry Dunphy at the helm The Big News on 2 was an enormous ratings success that no other local L.A. television news has ever matched up with. At its height The Big News ran its news operation like a network news operation opening bureaus in Orange County, San Francisco and Sacramento. This, along with Ralph Story doing special features.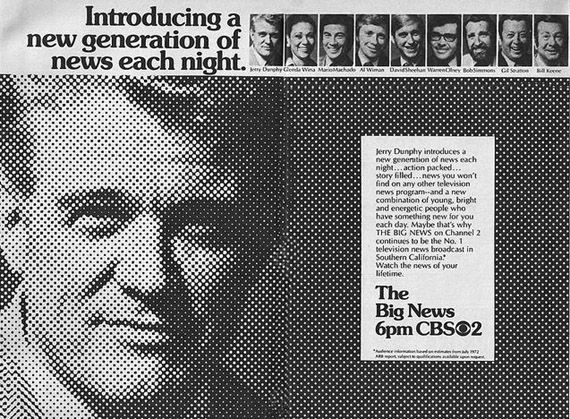 Early 1970s advertisement prominently, rightfully so, featuring Jerry Dunphy for
The Big News on 2
. Used under a Creative Commons license.
Given the changes in technology local news here in Southern California, or anywhere in the nation, will never, ever see these rating numbers Jerry Dunphy had at KNXT.

A whole half-hour of news at 11 p.m.! Will anybody stay up that late and watch? Used under Creative Commons license.
In 1975 The Big News was still very big and Jerry Dunphy was still very popular, and the powers that be at Columbia Square did the rational thing, they fired Mr. Dunphy.
While such things can apply to almost any business, if you, or anybody you know, have worked in the broadcast business the powers that be, be it at 30 Rock or Black Rock, will make decisions that seem ridiculously illogical and will give you a massive headache trying to figure it out. Sometimes it is a mystery why these decisions are made. Over the years bad broadcasting decisions have been blamed on, "the boss' son hating it," to, "test groups didn't response so well to this."
So, why was Mr. Dunphy, a news anchor with the highest ratings in L.A. broadcast news history, let go? He was deemed "too old," according to Columbia Square and Black Rock brass.
In a city like L.A. being called "too old" can be a kiss of death, but that kiss was never given to Jerry Dunphy, because he was brought over very quickly to KABC-TV, and brought his high ratings to "Eyewitness News."
The kiss of death flew by Mr. Dunphy and landed right on top of KNXT. The changes in 1975 at KNXT was the first of many bad management decisions that quickly set into motion a very long era of bad ratings for local news on Channel 2.
Just as Jerry Dunphy was there for a new era of local news in 1961 in 1990 he was there for another new concept in local news.
In the very late 1980s Disney had bought KHJ-TV from troubled RKO, soon changed the call-letters to KCAL-TV and re-branded the station California 9 that would feature three hours of local news in prime time, dubbed appropriately, Prime 9 News. Three hours of local news in prime time was just about a radical concept as was expanding a local newscast to one-hour, but Jerry Dunphy fit right into the new format, and the ratings and legacy came with him.
One thing people may not know about Jerry Dunphy is he was shot and wounded during a robbery as he was on the way to the KABC-TV studios in Los Feliz. Of course a World War II pilot was not going to let some gunfire get in his way, because within a few short months Jerry Dunphy was back on the air.
3 - The Real Don Steele
"What do we know and believe? Tina Delgado is alive, ALIVE!"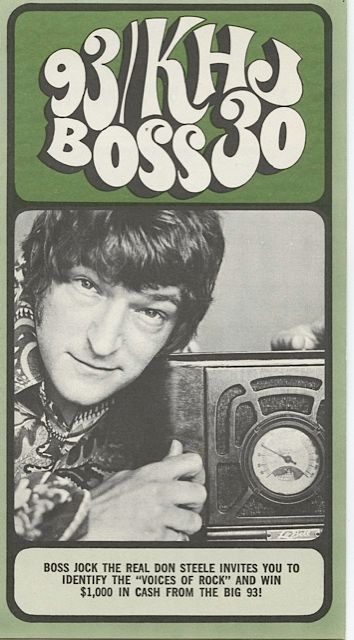 It is The Real Don Steele, the one and only, on a "Boss 30" survey cover. Used under Creative Commons license.
After asking that (whatever that meant) we would hear some guy with a manic speed talk about all things hip and happening in Southern California.
A 1971 aircheck of The Real Don Steele on 93/KHJ.
How do you explain The Real Don Steele? Well, whether it was on "Boss Radio 93/KHJ," or talking manically between The Ramones and Donna Summer "on the NEW 10-Q," there was just something about this deejay, and this may seem like a cop-out answer, but you probably had to be there to understand it, and A LOT of people were there and dug it. Even years after his death The Real Don Steele is still highly remembered and highly rated as one of Southern California's best broadcasters.
The Real Don Steele may have been the ethos of the fast-talking AM top 40 radio deejay, but it was kind of like a Jackson Pollock painting. A lot of people SAY they can do that, a lot of people try to do that, but in the end there is only one kind of person that can pull off that kind of art, and that person was The Real Don Steele.
The Real Don Steele was one of these crazy men in radio who knew the art well.
While Chuck Blore brought in the crazy top 40 sounds at KFWB it was Bill Drake and Ron Jacobs who took it to another level just down the dial at 930 AM at KHJ-AM.
Known as Boss Radio 93/KHJ this new type of top 40 format set the tone for the type of top 40 radio we hear today. The jingles were short and the deejay airtime was short and too the point.
Here are a handful of the famous Johnny Mann 93/KHJ jingles.
Bill Drake and Ron Jacobs worked in various top 40 radio stations in California in the early 1960s, and in most places they were competing against each other. By 1965 RKO was not doing too well with its L.A. owned and operated station, KHJ-AM, and in fact it was the worst performing station out of the entire RKO/Mutual Radio Network.
Well, Mr. Drake and Mr. Jacobs finally came together to take on the L.A. market. Mr. Jacobs knew Robert W. Morgan from Fresno and San Bernardino, among other places. Mr. Jacobs thought Mr. Morgan would make a good morning drive deejay for this new station, and Robert W. told Mr. Jacobs that he knew a guy he was working with at KEWB in San Francisco who would also be perfect for this new station. Mr. Jacobs told Mr. Drake, and when Mr. Drake heard of this deejay he was not too sure, because he seemed crazy. That crazy guy was The Real Don Steele. When Bill and The Real Don talked Mr. Drake knew he found the perfect guy for afternoon drive for the type of format he was going to pull off.
It took somebody like The Real Don Steele to tell you what was going on in the World in a 15-second talk-up, and in what would soon be called in the industry "The Drake Format" that was all you needed.
The format worked, because 93/KHJ soon crushed KFWB and KRLA.
The Real Don Steele had his own television show on KHJ-TV, which was a sped-up version of "American Bandstand." This show airing in the early 1970s you can interpret "sped-up" however you will.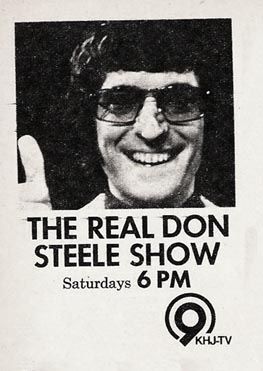 Advertisement for The Real Don Steele Show on KHJ-TV. Along with being THE VOICE of "Boss Radio" The Real Don Steele was, at times, the voice of KHJ-TV.
Aside for those early hipsters too cool for school listening to B. Mitchel Reed "Boss Radio 93/KHJ" and The Real Don Steele seem to hit the right notes at the right time and place.
The Real Don Steele was a force on L.A. top 40 radio until the end of the 1970s. By then he was on KTNQ, or 10-Q, which really seemed to be one of the last fun top 40 radio stations.
By 1980 it seemed The Real Don Steele was gone from the L.A. airwaves, and that was of his own doing. As Mr. Steele once told Ben Fong-Torres of Rolling Stone, the type of radio he, The Real Don Steele, was doing just was not "in" anymore and it seemed ridiculous to keep doing that type radio he had been doing.
So in the meantime there was acting, both on film and in voiceovers. Many of the films Mr. Steele appeared in were campy, fun films such as Eating Raoul. Perhaps The Real Don Steele's best known film role was playing Screamin' Steve Stevens in
Rock 'n' Roll High School with The Ramones.
After about five years off the air The Real Don Steele came back on-the-air on (93/KHJ's one time competitor) 1110/KRLA in 1985 where he joined the likes of Huggy Boy, Dave Hull, Art Laboe and Humble Harve.
A rare look of the man himself doing what he does best. The Real Don Steele on-air at KRLA in 1988.
After that it was hard to keep The Real Don Steele off-the-air.
In 1988 The Real Don Steele showed up for a stint at KODJ/KCBS-FM, which was CBS' attempt to replicate the success of its New York oldies station, WCBS-FM, in L.A.
In the summer of 1992 The Real Don Steele found himself doing afternoons at K-Earth 101, and with Robert W. Morgan doing Morgan drive, it was the first time they were together on the same radio station since the 1970s. (Industry talk has it that the architects behind "Boss Radio 93/KHJ," Bill Drake and Ron Jacobs, were behind this Boss Radio "reunion" at K-Earth and overall revitalization of K-Earth at this time in the early 1990s).
The Real Don Steele, born Donald Steele Revert, remained at K-Earth until his death from lung cancer in summer 1997.
"It's not Boss Radio without The Real Don Steele."
Mr. Smolin performing the tune, "Boss Radio."
Oh, and just who was Tina Delgado? Well, nobody seems to know, not even Mr. Steele's wife, and so it seems we will never know the mystery of who this Tina Delgado was and why it mattered that she was, "Alive! Alive!"
2 - Hal Fishman
When we think of "the big three networks" and their news departments it seemed each network organization had that one anchor with that one voice, which spoke through all the noise. Be it Tom Brokaw, Walter Cronkite or Peter Jennings. If you were to combine all L.A. broadcast news media there was one voice and one anchor that was easily heard through all the noise, Hal Fishman.
With Hal Fishman at the desk the top story in this 1978 KTLA newscast is that of the Hillside Strangler.
It was sort of accidental how Hal Fishman ended up in L.A. television news. Like many broadcast journalists from his era Hal Fishman did not intend for a career in television news, but rather Mr. Fishman was hoping for a career in academia. The political science major had his Masters Degree from University of California at L.A., and seemed to be on his way being an assistant political science professor at California State University-L.A. when KCOP called.
In something that sounds quite unusual today in 1960 KCOP asked Hal Fishman if he would teach a college course over the summer, "American Political Parties and Politics." No, Mr. Fishman was not asked to teach a college course on politics to KCOP employees, but rather teach the college course over-the-air on Channel 13. As strange as the offer seemed Mr. Fishman said, "yes." It helped that during summer 1960 the Democratic National Convention was being held in L.A. at The Sports Arena, because Mr. Fishman was able to get some speakers for his class, like John F. Kennedy.
Hal Fishman made good use of the 1960 Democratic National Convention at the L.A. Sports Arena in Exposition Park in helping teach his class. Used under Creative Commons license.
In a 2006 interview with Broadcasting and Cable magazine, Mr. Fishman recalled the first words he said on his KCOP college course: "Good afternoon, I'm professor Hal Fishman, and this course is certainly quite unique for me, because it's the first course that I have ever taught where the student can turn the professor off."
Mr. Fishman did so well that he was asked to stay at the KCOP and provide political commentary. During his time at KCOP he went to The Berlin Wall where he directed and hosted a documentary special on that infamous Cold War front.
It would be 1965 that would take Mr. Fishman to KTLA, and in August 1965 Mr. Fishman contributed to KTLA's Emmy and Peabody Award-winning coverage of the Watts Riots. It would be the first of many awards brought to KTLA by way of Mr. Fishman.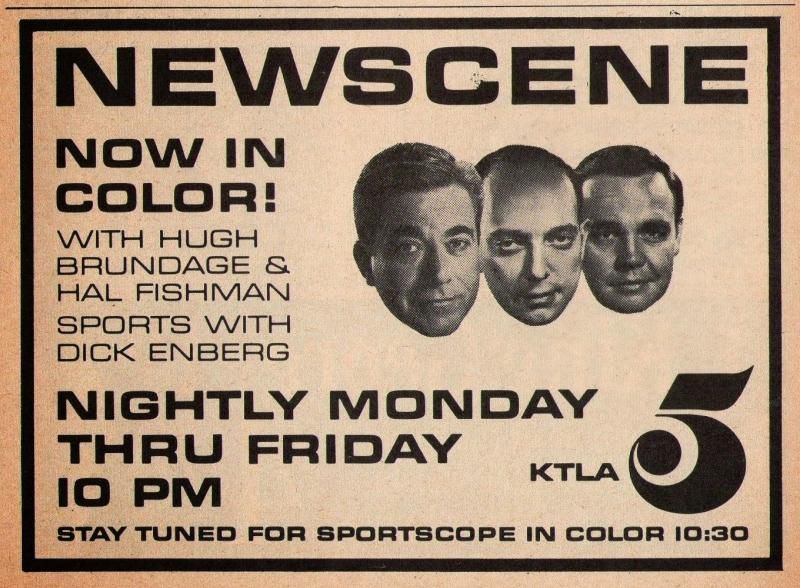 With Hal Fishman in the middle it is a 1965 advertisement for KTLA 10 p.m. news, which was then known as "Newscene." It would not until the late 1970s that the 10 p.m. news would become "News at Ten."
When KTLA broke into its regular programming and Hal Fishman was at the helm it was not unlike Walter Cronkite or Tom Brokaw being at the anchor desk during a special report on the network.
"When I think of the hundreds of anchors who have come and gone over the last 30 years -- many of them better-looking and better-coiffed than I ever was, there was one area that they were not better, and that is in being dedicated to being informed. And I think the audience perceives that," Fishman told The Times in 1990. "I am not a charismatic broadcaster or a dramatic guy, but I think I am a person that people can trust to give them a straightforward and accurate account of what's going on in the world. I think that's why I have lasted so long."
In the early 70s Mr. Fishman made stops at KHJ-TV and KTTV, but returned to KTLA in 1975 where he remained the main and evening anchor at what would soon be called News at Ten.
Gene Autry, under the name Golden West Broadcasters, once owned KTLA, along with KMPC and The California Angels, and local lure (a.k.a., industry gossip) had it that Gene Autry promised Hal Fishman a lifetime job at KTLA.
1 - Stan Chambers
What can be said of Stan Chambers that has not been said already. As one person on KTLA put it best, Stan Chambers seemed to be immortal, and always on KTLA.
Stan Chambers doing what he did best live at the scene. This time, as shown in this 1994 KTLA news coverage clip, Mr. Chambers was covering the shooting of a L.A. Police officer in Hollywood.
Perhaps it is because Stan Chambers was there on television ever since we were babies (even when our parents were babies), and now he is gone it is a shock he is no longer with us. Somehow (even though most of us knew better) we just always thought he would be there.
Well, for most of our lives Stan Chambers was there, and it is truly amazing to think somebody was there at the birth of modern television, and literally saw it all.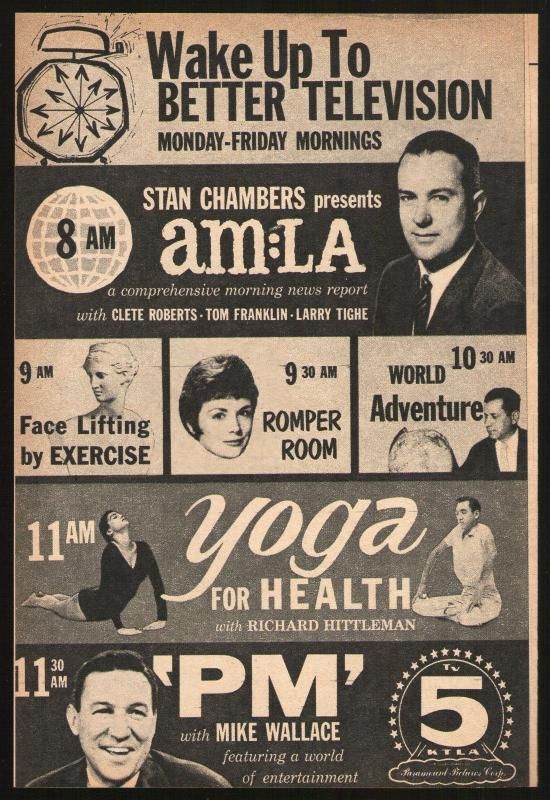 Stan Chambers was the anchor of L.A.'s first hour-long morning newscast, which was, like
The Big News on 2
, a big deal. A big deal, because, odd as it seems today with the many,
many
hours of local news in the morning, there was no local morning news show in L.A.
Stan Chambers has been there for some of Southern California's biggest, and best events. He was there at the very birth of breaking news, the nonstop coverage of Kathy Fiscus in 1949 (which really revolutionized television), being there live at the unveiling of "the eye in the sky" telecopter (a piece of broadcast news equipment that no station here in L.A. or elsewhere in the country can now live without), riding in The Tournament of Roses Parade, and was there atop Mount Wilson to press the button and change KTLA over from analog television to High Definition Television.
A whole book can be written about Mr. Chambers' work and legacy, and that is just what he did. It is highly recommended you check out Mr. Chambers' book, News At Ten.
For somebody to be on television continuously from the late 1940s until 2010, especially in L.A. television, is more than impressive.
Of course, Stan Chambers will forever be in a class entirely of his own.
While these voices and faces are now gone let us take a moment and be glad of the time we had with them.
It may be hard to believe, but as we look back into the past in this new era of media many wonder if in the future there will be more Southern California broadcast legends to be made? Sure, technology has changed, but there is no reason why they cannot be made, and we look forward to hearing from them however their message and act may be delivered.