LOS ANGELES - As we get older many of us find ourselves looking back more often and wonder, "Remember when 'that' used to be there?" For plenty of us who grew up in Southern California there is surely becoming more of "that," which is no longer here anymore.
Why do we talk about these things and places of years gone by? Perhaps we talk about these long gone places as a way to reach back into our childhood and maybe remember a simpler time. Or, given the nature of L.A. and Southern California with so many people moving here, it is a way for native Southern Californians to connect with each other.
Whatever the case may be, here, in no particular order, are six places and things that will never been seen in Southern California again.
1- Thrifty Drug Store
♫Save a nickel, save a dime.
Save at Thrifty every time.
Save a dollar and much more,
at your Thrifty Drug Store!♫
It was called Thrifty Drug Store, but most of us just called it, "Thriftys," and its red and white oval-ish logo was unmistakable.
Photograph of Thrifty Drug Store trailers taken circa 1983. Author unknown; used under a Creative Commons license.
Beginning in 1929 brothers Harry and Robert Borun opened up the first Thrifty Drug Store at 412 S. Broadway in downtown Los Angeles. Despite the depression and World War II the brothers opened up 100 Thrifty stores in the L.A. area by 1950. Accelerating in the post war Southern California suburban building boom just about every new major shopping center (and a lot of small shopping centers) in almost every city had a Thrifty. Thrifty grew to be as ubiquitous as palm trees and tract-housing developments.
Save up those Blue Chip Stamps for a cool little transistor radio. Late 1950s photograph of a Thrifty location somewhere in downtown Pomona (where The Glass House now stands). Author unknown.
Starting in the 1970s Thrifty went through various acquisitions, and at one point was even owned by a subsidiary of the Southern California Gas Co.
A very common view in post-war Southern California. Location of this Thrifty and date is unknown.
It would be 1996 and an acquisition by an East Coast corporation called Rite Aid that would soon make Thrifty a place that would live in our memory. Before those back East painted over our beloved red and white Thrifty logo ugly shades of corporate blue even the powers that be in the boardroom of Rite Aid realized Thrifty is very strongly ingrained in Southern California culture, and waited a couple years before fully converting all Thriftys' to Rite Aid. In fact, as late as 2000 there still were less than a handful of Thrifty and Thrifty Jr. locations, but, by the end of that year there would be no more Thrifty locations.
At the dawn of the new millennium Thrifty Drug Store was no more.
Today not all former Thrifty locations were totally painted shades of corporate blue. There still stands a few Rite Aid locations that never fully quite converted to the desires of the new corporate owner, and the look, and logo, of Thrifty can still be seen.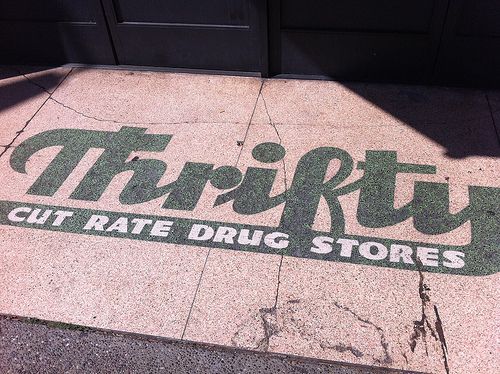 Photograph of ground embedded Thrifty logo at a former location in Pomona. Used under Creative Commons.
Thrifty may be long gone, but we do not need our imagination to still enjoy Thrifty Ice Cream.
A 1981 Thrifty commercial, aired on KHJ-TV, showing and selling the goodness that is Thrifty Ice Cream.
"Thank you Thrifty."
2 - The Peoplemover
In 1967 "the new Tomorrowland" at Disneyland opened up, and one of its new featured attractions was a ride called, The Peoplemover.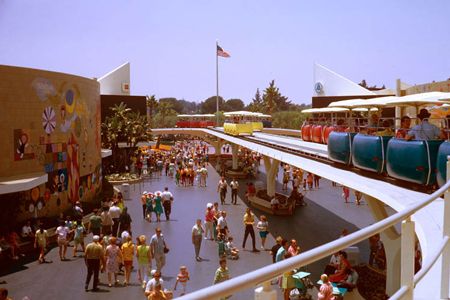 For many this circa 1968 photograph is probably the Tomorrowland everybody remembers (and a good many wish the powers that be at Disney would bring back), bright, colorful and full of promise, with The Peoplemover riding above it. Author unknown; used under Creative Commons.
The Peoplemover was not designed to be a thrill ride, or make a Disney film come alive, but rather it was suppose to be a preview of transportation in the future. As the narrator said on The Peoplemover, and nearby Monorail, maybe one day you will see this in your town.
It was not exactly a ride that changed and shook up the theme park industry, but for many people The Peoplemover was really one of those rides, excuse me, "attractions," that seemingly everybody just simply liked.
Whether you were one just for "A" Ticket rides or "E" Ticket rides The Peoplemover just always seemed to be one of those "must ride" attractions when visiting Disneyland.
Going back to 1990 let us take a ride on The Peoplemover.
What was once new soon became old, at least according to Disneyland, which closed The Peoplemover in 1995 in preparation for designing and unveiling... a "new Tomorrowland" in 1998.
In 1998 the tracks of The Peoplemover would be replaced by the ill-fated Rocket Rods attraction, which, due to MANY mechanical issues did not last too long.
So now, perhaps not unlike some abandoned Pacific Electric railway tracks, The Peoplemover track remains unused and just there doing nothing.
That, no doubt, leads many to ask, will Disneyland ever bring back The Peoplemover? The answer right now, based on insider information, is NO. Why? As The Peoplemover track stands now it is currently not in compliance with the Americans with Disabilities Act.
Will Disney ever do something with The Peoplemover track? That remains to be seen, but, as of late, there are rumors going around amid Disneyland and theme park enthusiasts that Disney may (again, it is only rumors) create a Star Wars attraction using part or all of The Peoplemover track.
If it is any consolation, LAX plans to open a Peoplemover-like transit device, and so the narrator on The Peoplemover at Disneyland was sort of right after all.
3 - Zody's
In an era when "big-box stores" are frowned upon (or outright despise), particularly in certain Southern California neighborhoods, there is one long gone big-box store that holds a lot of sentimental value for anybody who grew up in Southern California, and that is a store called Zody's.
Early 1980s ad for Zody's. Used under Creative Commons.
Just about anybody age 30-plus will have some kind of memory about Zody's, and with good reason, because there was a time Zody's ruled Southern California. For a lot of us that was the first store we remembered going to as kids and perhaps that is the first place we remember family or friends of the family working.
At its height just about every sizable city in Southern California had a Zody's complete with its funky red-ish-to-orange-ish color-scheme and seemingly disorganized shelves. Zody's began life under The Orange Curtain in Garden Grove in 1960 and was so successful that they expanded to many locations in Nevada, Arizona, New Mexico, and even the Detroit area.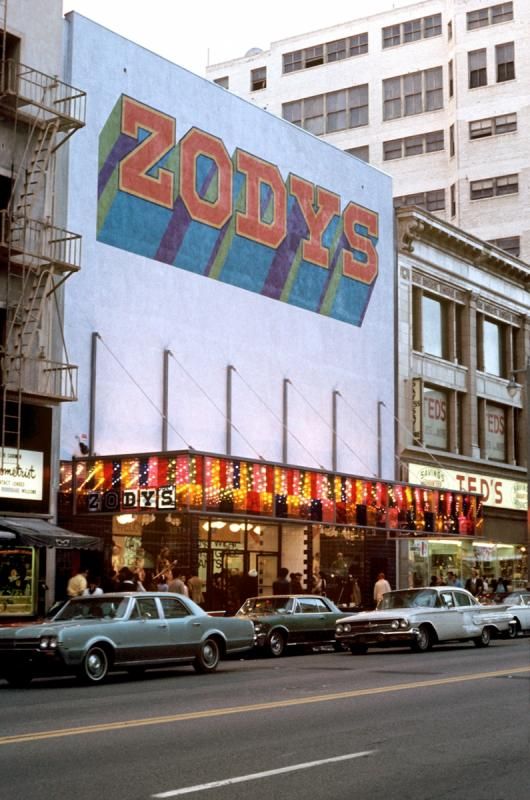 While Zody's certainly had a funky look in many of their stores
Deborah Sussman designed the look of this downtown L.A. Zody's, which would mark the beginning of Ms. Sussman's unique L.A. design that would bring her Worldwide fame.
With national corporate chains and mergers of discount department stores becoming players in the already competitive Southern California discount retail market, along with a recession, by the late 1970s Zody's was having some financial problems staying relevant. Those problems did not find a way to work themselves out as Zody's parent company, HRT Industries, declared bankruptcy in November 1982, which HRT claimed its Zody's stores had abnormally weak sales and, ''were the primary cause of its financial problems.''
According to a 1982 New York Times article HRT said many Zody's were, "in lower-income areas where unemployment is extremely high and it cited the effects of the Mexican peso devaluation and its resultant effects on its border stores."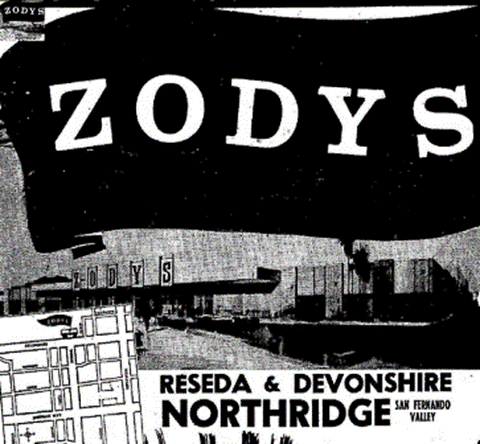 Undated newspaper ad circa mid-1960s ad for Zody's in The San Fernando Valley. Author of ad unknown. Used under Creative Commons.
For a few years after declaring bankruptcy a handful of Zody's began closing and for the dozens that remained open there was uncertainty, from the employees to vendors (which included Circuit City who supplied Zody's electronic department) what the future would hold. Well, despite bringing over the President of May Co. to run Zody's in 1984, by March 1986 the worst fears came true as HRT decided, abruptly, to close Zody's for good, "due to adverse operating conditions and Zodys' failure to meet financial projections."
A 1977 holiday time television commercial for Zody's, but just remember before you do your Christmas shopping that 8-track player is not available at the downtown L.A. location. The Zody's in Montebello probably has them in stock.
Some of those funky designs of Zody's still exist, if you know where to look. If you go in the back of Albertsons in Montebello off the Pomona Freeway, which used to be a Zody's, you can still see the funky color scheme along the wall.
What more can be said about Cal Worthington that has not already been said. For one, late night television is not quite the same without Cal. Cal's grandson (or is it his great-grandson?) has been filling in wearing the cowboy hat doing those late night ads, but it just will never be the same.
Here it is, in all its glory, the full Cal Worthington jingle.
Sure, Cal Worthington's car dealership in Long Beach will always be there, and that famous, forever misunderstood, jingle will be in our minds until our days come to an end, but Cal Worthington and his dog Spot is something that we will never see again.
5 - The Broadway, May Co., Bullocks, and Robinsons
While New York had Macy's and Bloomingdale's, Chicago had Marshall Fields and Philadelphia had Wanamaker's, here in Southern California we had four department stores. Sometimes called, "The L.A. four department stores," these department stores were very unique to Southern California, and they all began in downtown L.A. As the baby boomers and "Gen X" know very well, these department stores very much were apart of the Southern California mall scene as typically, in major malls, at least two of "the L.A. four department stores" were the mall's anchor.
Here is what a typical post-war Broadway mall location looked liked. It is unclear what mall this is and when this photograph was taken. Used under Creative Commons.
In the era of the post-war shopping mall construction all four department stores had, at most of their locations, a unique style of architecture, which included dramatic entrances and a cathedral like setting.
A 1967 view of The Broadway and May Co. at The Inland Center Mall in San Bernardino. Used under Creative Commons. That freeway in the foreground went through its own name changes. When this photograph was taken the freeway was likely U.S. 395, then Interstate 15, then became I-15E and finally becoming I-215.
In the 1980s the four department stores became victims of a variety business problems, acquisitions and takeovers.
By the early 1990s such complex business decisions resulted in Southern California's own department stores, staples of the Southern California shopping scene, going away forever, and to be replaced with the names of New York department stores. Much like Thrifty the corporate powers that be did not see the need, and frankly, appreciate the value, to keep these legendary L.A. department store names, style and brand intact.
By the mid-1990s, just like that, in a blink of an eye, something that was uniquely Southern California that many people grew up with was gone.
Not just The Broadway, but, The Broadway Valley seen in this late undated photograph of the Panorama City Mall. While the date of this photograph is unknown the late 1950s/early 1960s would be an educated guess, given the automobiles, and the fact this mall opened in 1955. Used under Creative Commons.
The last gasp of "the L.A. four department stores," Robinsons-May, closed in 2006 after being acquired by Macy's parent company.
When you walk into what has ever replaced these "L.A. four department stores" and listen closely you might still hear the chimes amid the muzak.
While we will never hear these chimes ring inside The Broadway all is not lost as these chimes still, in this hyper technology age, ring in a handful of the old department stores around the country.
For teenagers coming of age in the 1970s who were looking for that song they just heard on KMET, or maybe even KROQ, most probably went to Licorice Pizza to find the record. For many 1970s and 1980s teens Licorice Pizza was probably their first record store experience.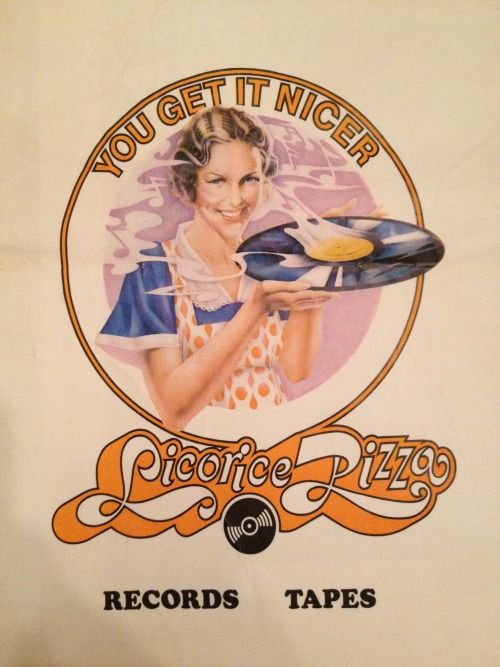 Serving up very good Licorice Pizza. It has never been clear who designed this famous logo. No copyright infringement intended.
Take a name from an old comedy sketch by 1960s folk singers Bud and Travis and you have a record store. Founder James Greenwood thought it was funny, and would make a good name for a record store, and so Mr. Greenwood opened this record store called Licorice Pizza in Long Beach in 1969.
Having trouble deciding whether to get your grandmother the latest Yoko Ono album for Christmas? Well, just tell your grandmother the clerk gave you "The Pizza Promise" and Yoko's work is of the best quality. That is what this 1982 Licorice Pizza ad claims. Author unknown; no copyright infringement intended.
Through the 1970s and into the early 1980s Licorice Pizza expanded rapidly and essentially became a regional chain record store in Southern California with 34 stores at its height.
This Licorice Pizza on The Sunset Strip certainly had an ear for music. Photo © Copyright 2001 Roger Meyers, All Rights Reserved
By the early 1980s Licorice Pizza went from beyond being a record store to getting into the highly lucrative video rental business. Now all you had to do is ask, "where is the Beta section?"
In March of 1986 Mr. Greenwood sold his Licorice Pizza empire to Record Bar Inc. of Durham, North Carolina. Then in April of that same year Minneapolis-based Musicland Group bought Record Bar Inc. for $13 million.
One reason Musicland wanted Licorice Pizza in their fold was their desire to get into the very lucrative Southern California video rental business.
During the sale of Licorice Pizza it was reported that Musicland would keep the Licorice Pizza name, but, as with the case of Thrifty, The Broadway (you get the idea), the name Licorice Pizza would quickly become a memory. Many Licorice Pizza locations during 1987 became either Musicland or Sam Goody.
With so many places unique to Southern California gone and taken over by corporate entities one wonders what the young kids today will be remembering 20 years from now?