PERRIS - If there is one thing that lives in the imagine of any true Southern Californian who knows their history, it is Pacific Electric, or otherwise commonly known as the red cars.
Okay, maybe you are new here and not too sure what these red cars are, or you are a young Southern Californian and have trouble believing that we actually had one of the best public transportation systems in the World. Well, this weekend you can see the evidence yourself, and ride it!
This weekend, Saturday June, 14, and Sunday June, 15, The Orange Empire Railway Museum in Perris is having its Pacific Electric Weekend.
The museum's large fleet of Pacific Electric rail cars is very impressive, and now you can ride it.
An extra bonus if you happen to go Saturday, because that is also Rods and Rails Days.
According to the museum,
The 15th Annual Rods and Rails sponsored by the City of Perris features cars from the 1920's through the 1970's. The event also features games and entertainment for the whole family, the 1800's Territorial Marshall reenactments, live music and contests and the annual Potato Festival sponsored by the Perris Valley Historical and Museum Association.
So you have old cars, the Pacific Electric and a Potato Festival, too. A POTATO FESTIVAL!
Oh, not only are the red cars there, but the yellow cars are are also at the museum (you do not know what those were, well, go to the museum this weekend and find out). In fact, according to the museum, they have the "West's largest collection of railway locomotives, passenger and freight cars, streetcars, interurban electric cars, buildings and other artifacts dating from the 1870's."
So, go to this, the Pacific Electric Weekend and The Orange Empire Railway Museum.
The museum is located at:
2201 s. "A" Street
Perris, California
92570
Yes, depending where you are at in Southern California, it is bit of drive, but it is totally worth it.
Now, here are some photographs when Pacific Electric ruled Southern California.
The Metro Red Line subway now rides underground here now, but here was the day when the big red car rode along Western Avenue and Hollywood Boulevard in Hollywood. No copyright infringement intended.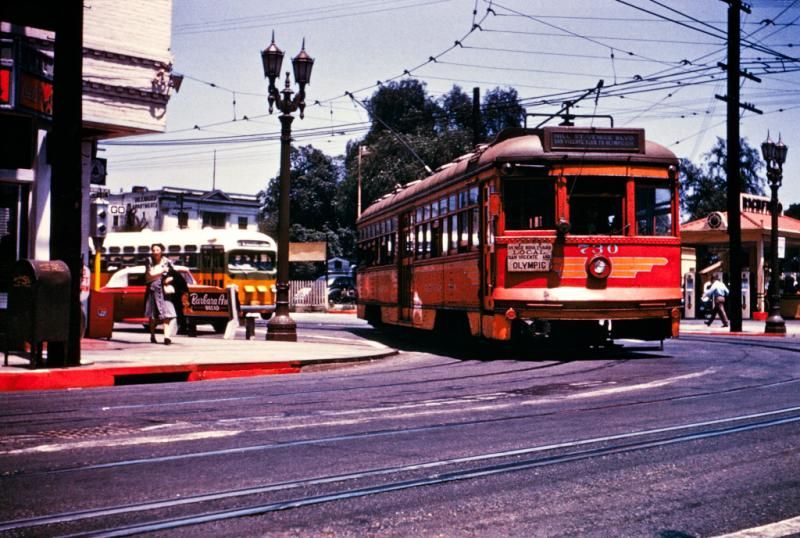 The red car slinking about in downtown Los Angeles at Hill Street and Venice Blvd.
No copyright infringement intended.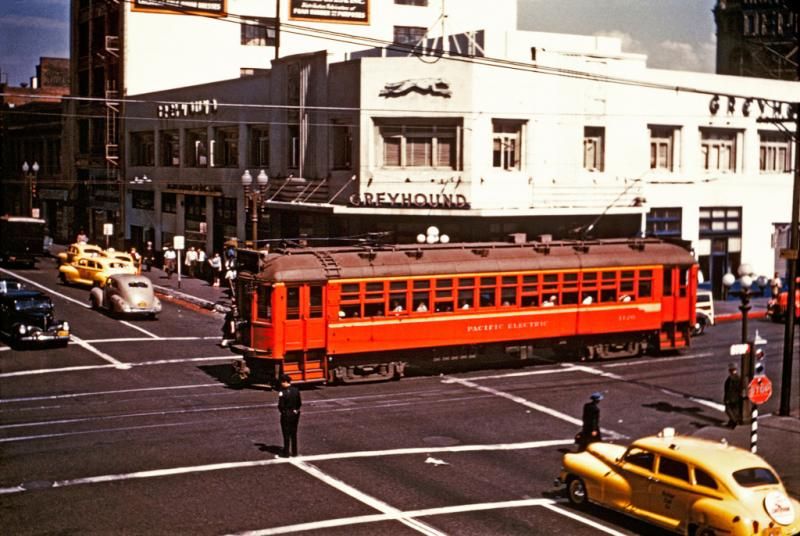 Amid the Yellow Cabs and Greyhound buses this red car goes though the intersection of Sixth and L.A. Streets in Downtown L.A.
No copyright infringement intended.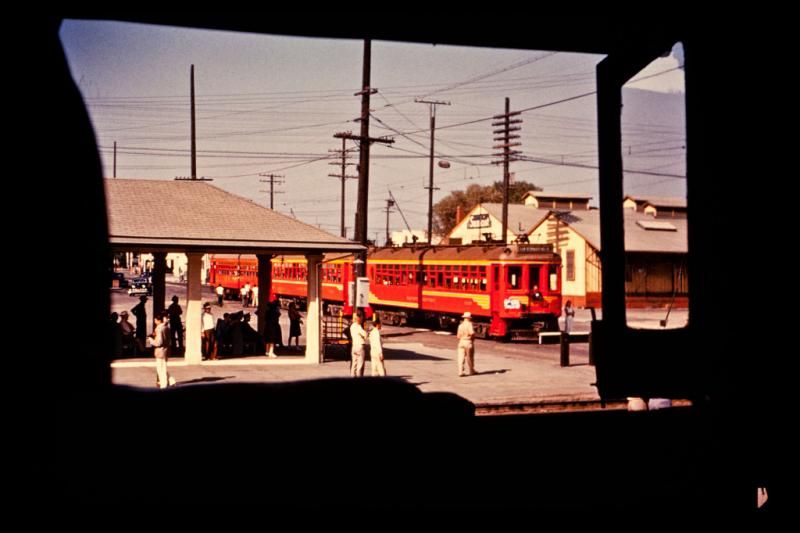 The Pacific Electric ran well outside L.A. and into Orange County, and out into the Inland Empire as seen in this photograph from Colton. No copyright infringement intended.
This photograph almost looks like it is from someplace that is not in L.A., but it is downtown L.A., and this photograph was taken shortly before the red cars would become one of many things that would not be here anymore. No copyright infringement intended.