CAJON PASS - ONE PLACE WHERE THE PACIFIC PLATE AND NORTH AMERICAN PLATE MEET - Even if you are not the biggest newshound you know Worldwide 2014 was not a very good year, but in our place of the World known as Southern California it sure seemed like things were shaking more than usual.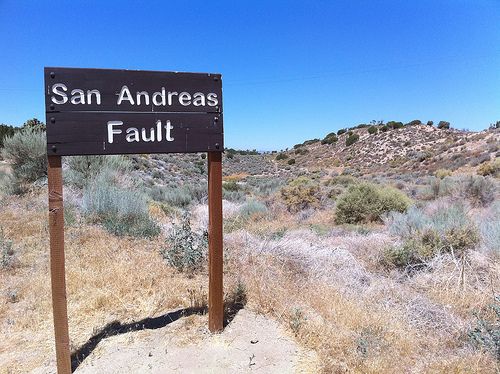 One of the many places in Southern California where the infamous San Andreas Fault runs.
Shown for educational purposes only; no copyright infringement intended. Used under a Creative Commons license.
In 2014 several widely "feel-able" minor-to-moderate earthquakes rattled the Los Angeles Basin. The most notable earthquake was the magnitude 5.1 (M5.1) La Habra Earthquake, which was the most damaging earthquake in the area since 2008.
In fact, things have been relatively quiet since the aftermath of the 1994 Northridge Earthquake, but in the last year it seems like things, seismically speaking, have been picking up.
So what gives? Well, as many geologists and seismologists at the United States Geological Survey note, such as "L.A. Earthquake Czar" Doctor Lucy Jones, things are just getting back to normal. In fact, having M4 and M5 earthquakes in Southern California is the normal way of life and we should be having a few them yearly. The problem for some people is that within the 20 years since the Northridge Earthquake many people have moved to Southern California, or been born in the last 20 years and may never had known of a time when these types of earthquakes rattled Southern California on a regular basis (of course they are many others who have been here well beyond 20 years and probably choose to forget we live in earthquake country).
Wait, These Types of Earthquakes Used To Happen All The Time?
Yes, and, by way of The Southern California Earthquake Data Center, here is a list of notable Southern California earthquakes between 1986 and 1994.
July 8, 1986 - North Palm Springs - M5.6
July 13, 1986 - About 32 miles West-Northwest offshore of Oceanside - M5.4
October 1, 1987 - Whittier Earthquake - M5.9
November 23, 1987 - Near Salton Sea and about 90 miles east of San Diego - M6.2
November 24, 1987 - About the same location as above - M6.6
June 26, 1988 - Upland - M4.7
December 3, 1988 - Pasadena - M5.0
January 18, 1989 - Malibu - M5.0
April 7, 1989 - Newport Beach - M4.7
June 12, 1989 - Montebello - M4.9
February 28, 1990 - Upland - M5.4
June 28, 1991 - Sierra Madre - M5.8
April 22, 1992 - Joshua Tree - M6.1
June 28, 1992 - Landers Earthquake - M7.3
June 28, 1992 - Big Bear - M6.4
January 17, 1994 - Northridge Earthquake - M6.7
What Happened After 1994?
Well, while there were the always ongoing minor M1-M3 jolts in the region and some M4 earthquakes just outside the area in the desert, along with a series of M5 earthquakes in rural Kern County in 1995-96 (some of which were felt in the L.A. area), notable earthquakes in and around the L.A. basin and Southern California in the aftermath of the Northridge Earthquake had became far, few and in-between.
In fact, outside of large Northridge aftershocks, which mostly faded by 1995, the next noteworthy earthquake would be the 2001 M4.2 West Hollywood Earthquake.
Furthermore, while there was a M5.4 in Big Bear in 2003 it would not be until 2008 that the L.A. basin would experience a damaging M5+ quake, the 2008 M5.4 Chino Hills Earthquake. That is about 14 years since a M5+ earthquake struck the L.A. area.
It is noteworthy to point out on October 16, 1999 in the rural San Bernardino County desert there was a M7.1 earthquake that shook most of Southern California, known as the Hector Mine Earthquake. This earthquake had an epicenter in such a rural area there was very little damage, but it did cause power outages in the Inland Empire, L.A. and Orange County. Despite such a significant earthquake it has been mostly forgotten.
Why Did The Lull In Earthquakes Happen?
Simply put, geologists and seismologists believe the Landers and Northridge Earthquakes relieved stress for a time on the fault-lines in Southern California.
In geological time 20 years is less than a blink of an eye.
So, Are We Coming Out of The Earthquake Lull?
Earthquakes in the last couple years would seem to say, "yes," and, much more importantly, in many interviews with the media after some of these shakers Dr. Jones believes we are going back to our normal pattern of earthquakes.
Does This Mean The Big One (Or A Big Enough One) Is Going To Happen?
Who knows?
It could mean something, or it could mean nothing, which is a way of saying there is no way to predict earthquakes.
Or, put another way, a damaging earthquake could happen tomorrow night, or ten years from now.
We Keep Hearing About The Threat of A Big Earthquake Happening, But Will It Ever Really Happen, Or Is It Just Hype?
Recent Southern California earthquake data listed above, along with historic earthquake data and studies going back hundreds of years show that a really big earthquake, or big enough earthquake to cause damage, will hit Southern California again, and again, and again, at some point.
What is most important to understand is Southern California, and much of California for that matter, sits atop two tectonic plate boundaries, the Pacific Plate and North American Plate. Those two plate boundaries in our part of the World create what is known as a transform boundary where the two plates slide past each other.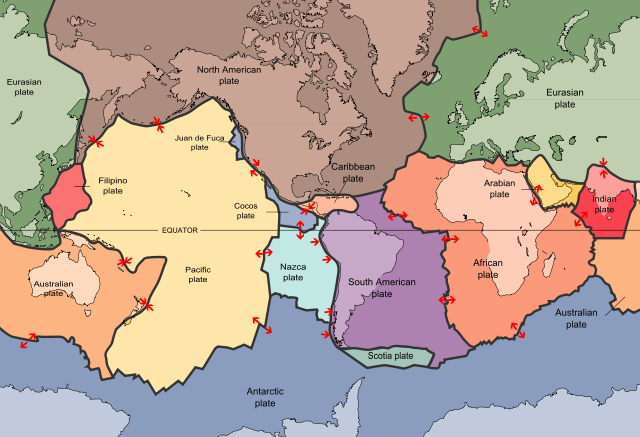 Image of plate tectonics by USGS via Wikimedia Commons, Creative Commons License.
In California the San Andreas Fault forms the tectonic boundary between the Pacific Plate and the North American Plate, and, simply put, as these boundaries slide past each other many times they become stuck, pressure builds up and you have an earthquake.
Will The Plates Ever Stop Moving Against Each Other So We Can Stop Having Earthquakes?
Nope!
As long as the World is spinning the plates will keep moving, and thus Southern California will continue to always have earthquakes big and small.
When Was The Last Great Big Earthquake in Southern California?
While there certainly have been many "big enough earthquakes" in our lifetime the last great big earthquake in Southern California was in 1857, commonly called The Fort Tejon Earthquake.
This earthquake was on the San Andreas Fault, which many in the Earth science community believe the infamous fault ruptured from the Parkfield area southward to the Cajon Pass. One reason that lead to this belief is the surface rupture along the fault was about 230 miles.
This earthquake is believed to have been M7.9, one of the strongest earthquakes ever recorded in North America, but California was a very sparsely populated place, and so damage and casualties were very limited.
It is believed shaking in Southern California lasted up to three minutes.
A similar earthquake today would profoundly impact Southern California with damage and economic loss going easily into the billions of dollars, according to SCEDC.
What About The Other Section of The San Andreas Fault?
There is another section of The San Andreas Fault that runs through Southern California, and that section runs between San Bernardino to the fault's terminus in the Salton Sea.
Recent studies have shown the last time this section ruptured was in or around 1690.
For some geologists and seismologists it is this section of The San Andreas Fault they believe will bring us the dreaded Big One.
Video developed by Dr. Robert Graves of the USGS showing a simulation of a major southern San Andreas Fault earthquake. No copyright infringement intended; shown for educational purposes only.
Just Be Prepared!
All you can do is prepare and be prepared.
There is no way at this time to predict earthquakes. The only earthquakes that can be predicted are aftershocks.
Making The Best of The Faults Below Our Feet
One way to make the best of all these fault-lines around us is to enjoy the natural beauty they have produced. After all, what gives Southern California its dramatic mountains and hills are earthquakes, and if we did not have earthquakes we would probably be as flat as Kansas.