CORONA - Little rain, a major, historic drought, very dry vegetation, a gentle wind and a spark has brought about a major brush fire where Orange County, Riverside County and San Bernardino County meet in what is the explosive start of a dreadful fire season.
Monday Update: According to the Riverside County Fire Department,

the fire is holding at 1020 acres with 35% containment, and all evacuations have been lifted. No homes or structures were damaged or destroyed.
A massive brush fire has broken out in the Corona/Chino/Norco area with flames rapidly moving in a northeast direction being driven by light-to-sometimes-gusty winds, which has prompted evacuations in what is being called The Highway Fire. The fire is burning in the Prado Flood Control Basin, which has thick, tender dry brush that has not burned in many decades.
By day smoke could be seen throughout much of Southern California and by nightfall an ominous orange glow could be seen for many miles around.
At least 300 homes have been threatened by this fire. As of this update no homes have been lost. There was a rumor going around that two homes had been destroyed, but Cal-Fire says NO homes have been lost.
The American Red Cross has established an evacuation center for residents at Riley's Gym, 3900 Acacia, in Norco, while those who have animals can evacuate them to Ingalls Park on Sixth Street in Norco. UPDATE: The evacuation center has been closed, because apparently nobody needed it and had another place to go.
By midnight the breezy and sometimes gusty winds had tampered off giving the 800 firefighters on the scene the much needed upper hand in fighting this conflagration, which at 12:20 a.m. is at 30-percent containment. Rising humidity levels and cooler temperatures are also helping.
The Riverside Freeway and Chino Hills Freeway are open.
The scope of this massive fire. This photograph was taken around 10 p.m. on Saturday on Green River Road in Corona. From this angle the fire was about five miles wide. Photograph by Jason C. Rosenthal.
The Tombstone and dead, dry palm tree still stands as the fire was being driven by on-shore winds pushing flames in the northeast direction away from this location off Serfas Club Drive in Corona. Photograph by Jason C. Rosenthal.
See if you can make out the eerie eyes in the smoke. Photograph by Jason C. Rosenthal.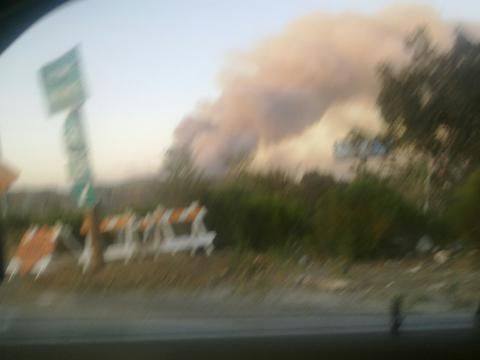 The Riverside Freeway will do anything to avoid being an effective freeway. Photograph by Jason C. Rosenthal.
One of many dark smoke plumes. Photograph by Jason C. Rosenthal
Mr. Tree shaking his arms in fear seeing the danger ahead. Photograph by Jason C. Rosenthal
Taken about a half-hour after the fire started, and by this time had already put out an enormous amount of smoke that could be seen throughout much of Southern California. Photograph by Jason C. Rosenthal.
In the past week as dry, warm weather gripped Southern California a handful of small brush fires broke out. Earlier Saturday a brush fire burnt about 12-acres in Fullerton. Earlier in the week a brush fire destroyed one home in Jurupa Valley.
As well, earlier in the week two small brush fires broke out in Malibu, but were quickly put out. Also, firefighters quickly fought a small brush fire in Whittier.
Even though it seems like every year we are told, "it is going to be a bad fire season," in an April 11 interview with the Los Angeles Times a Jet Propulsion Laboratory climatologist says this year is a particularly "incendiary situation," and we should treat every day from here on through next winter as fire season.
It seems The Highway Fire has driven home the point just how serious this fire season will be, because this fire took a lot of people by surprise on just how fast it moved and grew.
[Feel free to share these photographs. Sure, these are not the best, but still, just give credit.]