SANTA ANA - Passing south on Interstate 5, the Santa Ana Freeway, just below the Orange Crush Interchange, you come across a place that bills itself on its water-tower as, "Downtown Orange County." That is not too far fetched as Santa Ana is the Orange County seat, which is to say all the main Orange County government services are headquartered in the city. In fact, and here is a Santa Ana fact in the opening paragraph, the Orange County government is the largest employer in Santa Ana.
So, with a quick glance passing along down the I-5 Santa Ana, like much of Southern California, looks so much like one of the many same suburban cities making up the puzzle piece of the Los Angeles Basin. Getting off the freeway and spending some time in the city you will see there is much more to Santa Ana than meets the eye.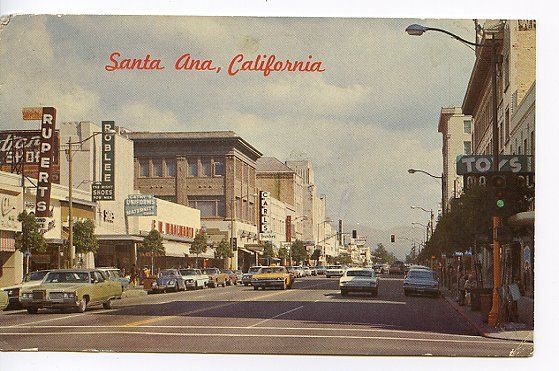 Postcard of 1973 downtown Santa Ana. Used under Creative Commons license.
Here are 14 random facts, in no particular order, about Santa Ana. We hope this will inspire you to learn more about the fun, interesting and sometimes not-so-happy history of Santa Ana.
1 - Santa Ana Is More Densely Populated Than L.A.
Wait! That cannot be right. L.A. has over four million people and is the second largest city in America. Yes, that is true, but the City of Angels is not quite as densely populated as Santa Ana, and so just how densely populated is Santa Ana? Well, in an answer that often surprises a lot of people is Santa Ana is the United States' fourth most densely populated city behind, New York, San Francisco and Boston, respectively, according to the 2010 United States Census.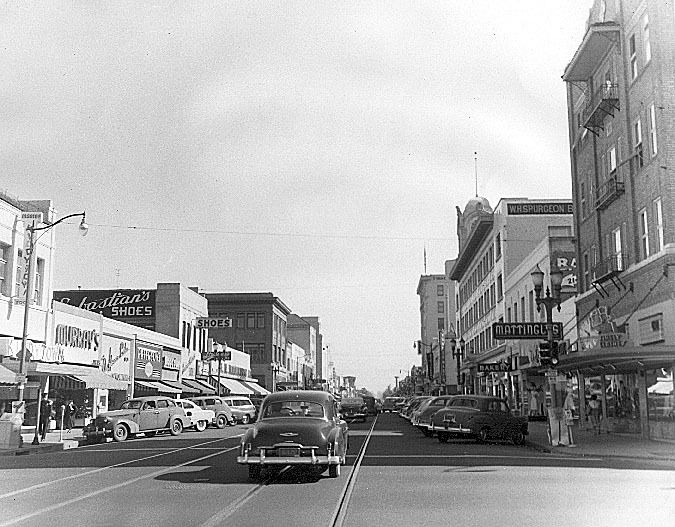 It is Fourth Street in circa 1950 Santa Ana. Used under a Creative Commons license.
2 - Santa Ana Is a Rather Safe City
There is a perception in Orange County and around Southern California that Santa Ana is not quite safest place to be. Sure, like any large city they have their problems, from street crime to corruption in city government, and some of these problems make the rounds on local news and even international news. However, and this is another thing that surprises many people, according to a 2011 Forbes study of cities with populations of 250,000 and up, Santa Ana ranked as the nation's fourth safest city.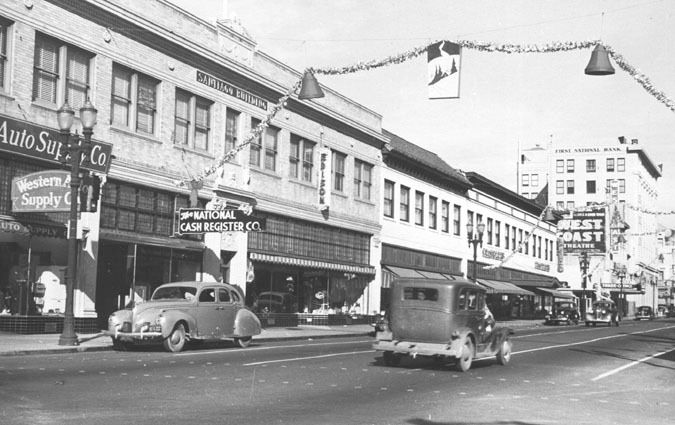 Downtown Santa Ana circa 1940s. Used under Creative Commons license.
3 - Who Named It Santa Ana?
The name of Santa Ana comes from the controversial Friar Junípero Serra who named the area Vallejo de Santa Ana following the 1769 expedition of Gaspar de Portolá. The original name, Vallejo de Santa Ana, translates into Santa Ana Valley, or, Valley of Saint Anne. This name did not include just where the city currently sits, but rather Vallejo de Santa Ana was the name of most of present day Orange County. Furthermore, growing up in Southern California some people have said the city was named after General Santa Anna, but that is not true.
Downtown Santa Ana in the 1930s, Used under a Creative Commons license.
4 - How Did The Present Day City of Santa Ana Come To Be?
The Santa Ana of today is a result of a guy from Kentucky named, William H. Spurgeon. The story goes, Mr. Spurgeon rode through on horseback on October 10, 1869, and he liked what he saw and paid Jacob Ross, Sr., $595 for 74.2 acres. In 1870, Mr. Spurgeon became postmaster and owned a general store and, to no real surprise, he became the city's first mayor when Santa Ana incorporated on June 1, 1886.
5 - Who Was Jacob Ross, Sr.?
Before the guy from Kentucky bought the land that would become the city of Santa Ana it was owned by Jacob Ross, Sr. After California was taken by the U.S. from Mexico Mr. Ross purchased 650 acres from the Yorba family's vast Rancho Santiago de Santa Ana. The Rancho was a Spanish land-use grant that had been awarded in 1810 to Jose Antonio Yorba, a sergeant of the Spanish army who served with Mr. Portola's 1769 expedition. For more on these land grants check out the Californio-Alta California-Spanish-Mexican-American history of California.
6 - Santa Ana Used To Be Called Hotuuk
Long before the Spanish or other Europeans came to the area the indigenous
Native American Tongva inhabited the area beginning around the year 500.
After the Spanish colonization the Tongva people became known by their European names,
Gabrieleño, Fernandeño, and Nicoleño.
7 - Orange County's First Gay Pride Parade Was Held In Santa Ana
On September 11, 1989, Orange County LGBTQ history was made with the first Orange County Cultural Pride Festival parade held at Santa Ana's Centennial Regional Park. According to festival organizers around 10,000 people attended the event. This event was not without incident as the Santa Ana Police riot squad had to be called out. According to the Los Angeles Times,
Six people were arrested Sunday after a fist-swinging brawl broke out among more than 50 militant gays and fundamentalist Christians at Orange County's first Gay Pride Festival.
About 50 riot-equipped Santa Ana police were called in to Centennial Regional Park to quell the disturbance, but no serious injuries were reported as the two-day gay festival concluded Sunday evening.
The six people arrested--identified by police as militant gay activists as well as fundamental Christians--were taken to the Santa Ana police station, where they were cited for interfering with police and released.
Despite the rough start this event is considered to be a milestone in Orange County LGBTQ history.
8 - Santa Ana May Be The Nation's Fourth Most Densely Populated City, But It Is Not The Most Populated City In Orange County
As first noted above Santa Ana is one of America's top five most densely populated cities ranking up there with New York and San Francisco. However, in total population numbers Santa Ana is not the largest city in Orange County with its 329,427 residents, according to the 2011 U.S. Census. Rather, the most populated city in Orange County is the home of the Mouse, Anaheim, with their 336,265 residents, according to the 2010 U.S. Census.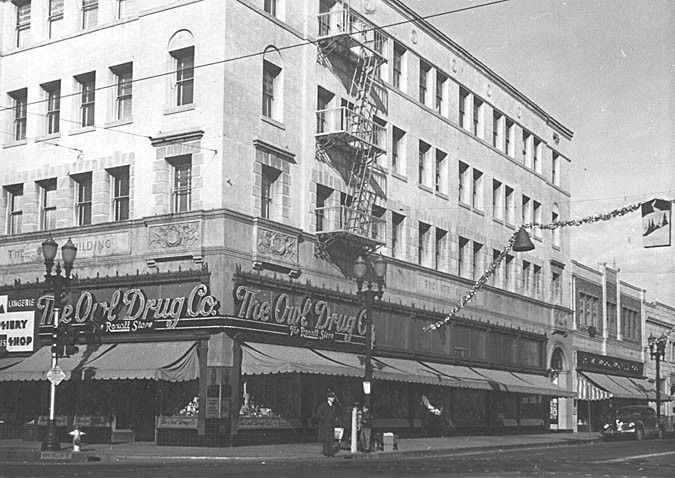 Owl Drug Store in Santa Ana. Used under a Creative Commons license.
9 - There Was A Lynching at Sycamore and Main
Many like to think lynchings were a thing that only happened in another part of the country, but, sadly, Southern California had more than a few of them, and one of them happened in Santa Ana on August 20, 1892. The person lynched was Francisco Torres. Mr. Torres was accused of the murder of Captain William McKelvey near the home of Madame Modjeska. According to the 1892 L.A. Times,
Pinned on the breast of the corpse was a placard on which was written: 'A CHANGE OF VENUE.' His hands were tied behind him and his feet were bound together, one foot being bare and the other with a stocking on. An undershirt and dark pair of pants were the only clothing on the body. Torres's face told the story of terrible suffering, a bungling job and a desperate struggle for life. So quietly was the lynching done that it did not even arouse the guests in the Hotel Brunswick, not fifty feet away.
10 - Santa Ana Burnt Down and Destroyed Their Chinatown
Combine xenophobia against Chinese and having that Chinese xenophobia recognized by local, state and federal officials, with things like Chinese Exclusion Act of 1882, along with city officials claiming Chinatown is a hotbed for the dreaded leprosy, and you have the makings of people doing whatever they can in wanting to get rid of "undesirable" Chinese by burning down their neighborhood. That is, sadly, what happened on a May day in Santa Ana. On May 25, 1906, over 1,000 people gathered to watch Santa Ana's Chinatown be burnt to the ground. Gustavo Arellano, of Ask A Mexican fame and the incredible editor-in-chief at the OC Weekly, wrote a very important piece about this conveniently overlooked important bit of history.
11 - The 1970
Movement for a Democratic Military Peace March
Orange County back then in 1970 was not a place nationally known as being a hotbed of liberal, anti-war or left-wing political activism, and many of the powers that be, from the Chamber of Commerce to Register owner R.C. Hoiles did all they could to keep it that way. (By the way, and probably not a big surprise for those who know a little bit about Orange County history, Orange County was known for lot of right-wing activism, such as being a hot-spot for The John Birch Society, and Mr. Hoiles' Register had many editorials, many from Mr. Hoiles himself, that wanted to keep Orange County that way.) Well, in 1970 in a protest that looked like something coming out of Berkeley the
Movement for a Democratic Military sponsor a four-mile peace march and rally at Santa Ana Memorial Park where around 2,000 people listened to speeches given by members of the military. The speeches, according to the Raitt Street Chronicles, included pleas stop to all alleged military censorship and intimidation; military wages commensurate with the minimum federal wage; an immediate pull out from Vietnam; and an end to the draft.
12 - The 1969 Movie Theater Riot
Much like how liberal and left-wing protests had been mostly kept under wraps in 1960s Orange County, and in many cases driven underground as being associated with any such group in Orange County could cause you to lose your job, there was not a lot of rioting happening. Orange County had been mostly spared from the racial riots and civil unrest that were occurring in many places around the nation in the 1960s.
In 1969 the racial divisions and tensions happening around the country and boiling in parts of Orange County exploded at a Santa Ana movie theater. According to the OC Weekly,
More than 400 Mexican and black youths riot in Santa Ana after a black girl was kicked out of a theater. She had complained after a white teen yelled, "Why don't you black niggers keep quiet?" Teens threw bottles and bricks at police, set fires, and even took batons away from officers and beat them with the sticks.
13 - The 1933 Long Beach Earthquake Gives Santa Ana A Whole Lot of Damage
Damage in Santa Ana following the 1933 earthquake. Used under a Creative Common license.
The deadliest earthquake in Southern California history was the 1933 Long Beach Earthquake, and this earthquake still holds the record for being Orange County's most damaging earthquake causing major damage in downtown Santa Ana. One reason Santa Ana had so much major damage was the fact that the epicenter of this earthquake was not in Long Beach, but rather in nearby Newport Beach. The Newport-Inglewood Fault was the cause of this earthquake (interestingly enough in the past few months there has been a series of minor magnitude 2-3 earthquakes in the Inglewood/West L.A. area on or around this fault).
14 - The Santa Ana Winds Are Not Named After The City
Raymond Chandler once wrote, "There was a desert wind blowing that night. It was one of those hot dry Santa Ana's that come down through the mountain passes and curl your hair and make your nerves jump and your skin itch. On nights like that every booze party ends in a fight. Meek little wives feel the edge of the carving knife and study their husbands' necks. Anything can happen. You can even get a full glass of beer at a cocktail lounge."
There has been, and will continue to be, much debate on the etymology of just where the name Santa Ana Winds comes from. However, one thing is a fact, those winds that have brought much burning destruction on mountains and hills are not named after the city, and furthermore have nothing to do with Orange County.