WHERE THE 101 AND 110 MEET IN DOWNTOWN LOS ANGELES - Motoring rapidly across the freeways that make up the fabric of Southern California, or maybe moving slowly across the freeways due to a Sig-Alert, you have probably come across more than a few memorial signs on the side of the freeway. There may be a few memorial signs you have noticed and perhaps wondered just who are those people.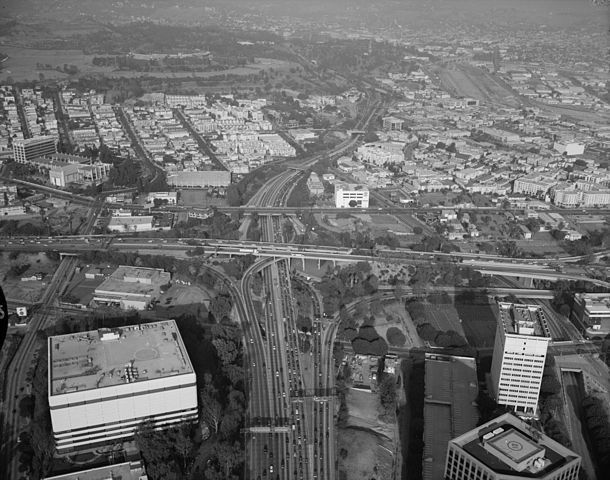 Coming up northbound on the 110 just before The Hollywood Freeway it is a slightly different view of the famous Four Level Interchange in Downtown L.A. in this public domain photograph.
Some of those people on the memorial signs along side the freeway were legendary broadcast traffic reporters warning us all about Sig-Alerts and what alternative routes to use to get back home.
Somehow it just seems appropriate that in Southern California portions of freeways would be named after traffic reporters, and, in no particular order, here are three very big names in the world of broadcast traffic reporters that very much earned their name on the freeway.
1 - The Bill Keene Memorial Interchange
Even way back then, as shown in this 1962 KNXT-TV advertisement with Bill Keene, the seven-day forecast was a big deal.
Sitting in traffic is never fun, and merging on an old interchange like the Four Level Interchange in Downtown L.A. can rattle some nerves. Sometimes you just need to have a little fun when the traffic is not all that fun to deal with, and Bill Keene was one who made traffic reports fun. Anybody with a decent enough voice can go on-the-air and say, "On the 110 northbound a ladder is blocking the number two lane just before the Four Level." In similar situations Mr. Keene would go on-air and say, "Watch out for rung way drivers ... Don't worry, the highway patrol will be taking steps to remove that ladder." If things got a little fishy on the freeway Mr. Keene would report that, "With the highway patrol on the scene, it's fish and chips," according to KNX radio's Jim Thornton
in a 2000 interview with the Los Angeles Times.
Mr Thornton, by the way, succeeded Keene.
Mr. Keene had a very long, rewarding career in L.A. broadcasting that began in 1957 at KNXT-TV, which, of course today after changing call-letters in 1984, is KCBS-TV.
While at KNXT Mr. Keene was one of the on-air people to help bring about the groundbreaking hour-long "Big News on 2" along with Jerry Dunphy and Ralph Story.
On KNXT Mr. Keene did the weather, but soon he would have his own variety shows on the CBS owned and operated station, "Keene at Noon," and "The Bill Keene Show."
Mr. Keene would stay with KNXT until a baffling massive management shakeup led to his, along with Mr. Jerry "From the desert to the sea to all of Southern California" Dunphy, being laid off.
Much like Mr. Dunphy, who would not be off the air for long, Mr. Keene quickly returned to television a couple blocks east on Sunset Boulevard at KTLA. Now Mr. Keene never totally left Columbia Square as he was doing traffic reports part-time on KNX while at KTLA. After his brief stint at KTLA it would be in 1976 that Mr. Keene began working full-time at KNX delivering his unique traffic reports. In the late 1980s as KCBS-TV began to expand their morning news program Mr. Keene would do televised traffic reports in the morning on Channel 2 along with his reports on KNX.
In 1992, Mr. Keene, who, by the way, served as a navigator in the Air Force during World War II, was honored with a star on the Hollywood Walk of Fame.
Coverage from KCAL-TV of Mr. Keene receiving his star on the Hollywood Walk of Fame.
After many decades having made the commute a little more fun, or sometimes downright funny, Mr. Keene retired in 1993.
Mr. Keene passed away in April 2000.
In 2006 The California Department of Transportation, or, as we all simply know it, CalTrans, officially named the historic Four Level Interchange in Downtown L.A., where U.S. Route 101, Interstate 110 and State Route 110 meet, The Bill Keene Memorial Interchange in Mr. Keene's honor.
2 - The Mark Denis Melbourne Memorial Interchange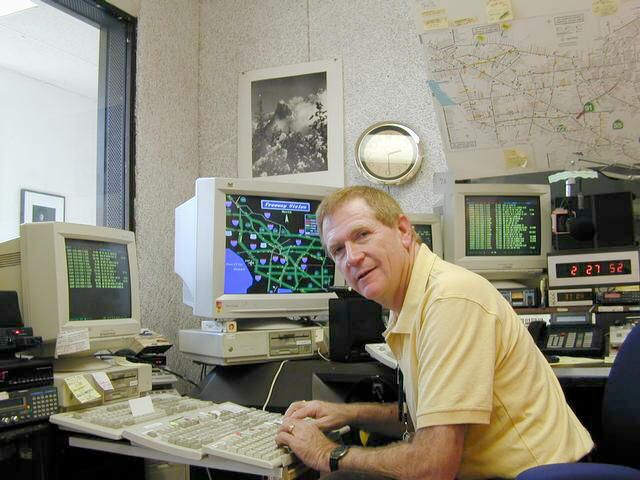 A traffic reporter who knows his freeways. The guy with all the computers, maps and scanners around him is, Mark Denis at the KFI/KOST traffic center circa 1999. Used under a Creative Commons license.
Whether you are coming out of The Corona Crawl going into Anaheim and out to Long Beach, or getting ready to brave The Corona Crawl going into the Inland Empire, the
sort of the unofficial western terminus of The Corona Crawl
is where The Riverside Freeway meets The Costa Mesa Freeway, and that is named The Mark Denis Melbourne Interchange.
Mark Denis Melbourne was on Southern California radio for many years and went by the name, Mark Denis. Perhaps using his full name might have been a little too much for the jingle singers.
Many jingles across Southern California sang Mark Denis' name. Mr. Denis was on-the-air at KFXM and later top-40 rival KMEN in San Bernardino, and later came over to 1190 AM at KEZY in Anaheim. Mr. Denis also worked for the KGB. That is, rather, KGB-AM radio in San Diego. In the 1980s Mr. Denis had a chance to be on-the-air at the legendary KHJ-AM, which is where he started his legendary traffic reports during 93/KHJ's short lived "Car Radio" format. Being on "Car Radio, 93/KHJ" led the way for Mr. Denis being best known as the legendary traffic reporter on KFI and KOST, and Mr. Denis is best remembered as being one of the nicest guys in broadcasting.
In an industry where ego and personality clashes, along with very long, tiresome hours, are apart of job, many colleagues and contemporaries of Mr. Denis always spoke very fondly of Mr. Denis as he was a very nice guy to work with, and just an all around very nice guy.
Mr. Denis had many wonderful pieces of advice, and one he often said was, "Find a job you love, and you'll never have to work a day in your life."
He took his own advice to heart as Mr. Denis told Variety in 1996 as he celebrated his 35th year in Southern California broadcasting, "It's like going to the circus every day [...] When it comes to job satisfaction, I'm in the 90th percentile. Then there are days that it's even better than that."
Born in Glendale and raised in Compton it was at Compton Junior College where Mr. Denis announced the halftime show during football games, and it was from there he knew what he wanted to do with the rest of his life, and it is safe to say Mr. Denis never again worked a day in his life.
A memorial of Mr. Denis' life, which features photographs of his time at KMEN, KGB and KEZY, among other photographs.
During his time at KFI and KOST it is believed he broadcasted around 9,000 traffic reports a year.
If you rode the Disneyland Monorail in the mid-1980s or early 1990s as it left the Tomorrowland Station making its way across the vast (now long gone) parking lot to the Disneyland Hotel the narrator you heard was Mark Denis.
Unfortunately the audio is not all that great in this 1990 video of the Disneyland Monorail, but you can still make out Mark Denis' voice.
Mr. Denis passed away in 2000.
In January 2002 the California state senate introduced Senate Concurrent Resolution Number 50, which designated the SR-91 and SR-55 interchange as the Mark Denis Melbourne Memorial Interchange.
3 - The Paul Johnson Memorial Freeway
"Buckle up, be careful out there." With that perfect baritone voice made perfect for broadcasting those were the wise words of longtime KNBC-TV and Metro Networks traffic reporter Paul Johnson.

Starting in
1988 Mr. Johnson was apart of KNBC's "Today In L.A." For a time in the mid-1990s Mr. Johnson began doing traffic reports for KNBC's afternoon newscasts.
What some people may not know about Mr. Johnson is well before he began reporting on Sig-Alerts, tie-ups and alternative routes, the Southern California traffic reporter was once an opera singer and stage performer.
In the 2007 movie "Mr. Woodcock," starring

Billy Bob Thornton, Mr. Johnson makes an appearance

as the announcer at the corn-eating contest.
An avid golfer Mr. Johnson used his skills on the course to hold and appear in charity tournaments to help disabled children.
Before Mr. Johnson passed away his wife, Nancy, told her husband that there is a push in Sacramento to have part of a freeway named after him. In a February 2011 interview with the Orange County Register Nancy Johnson said Paul's reaction to that was, "He looked at me, square in the face, and he said, 'Well, I'll be damned,' in that deep baritone voice, and we both just giggled and laughed."
In 2010 state assembly speaker John A. Perez, D-Los Angeles, introduced the bill that put Mr. Johnson's name on the freeway a few days after he passed away, and it passed the Assembly and the Senate by unanimous votes and was signed into law in September 2010.
Now as you drive through Orange, perhaps on the way to Newport Beach, South Coast Plaza or John Wayne Airport, on SR-55 you are driving along The Paul Johnson Memorial Freeway.