HARBOR BOULEVARD AND KATELLA AVENUE - On July 17, 1955, a place in the middle of orange groves right off the nearly new Santa Ana Freeway, which was then known as U.S. 101, would transform Orange County, and become apart of the landscape of Southern California. Just like the beaches, mountains, strip malls, freeways, Sig-Alerts, earthquakes, growing acceptance of public transportation, police pursuits and the iconic Los Angeles City Hall, Disneyland would and has become apart of Southern California. Whether you love or hate Disneyland, and there are plenty with strong feelings in both camps, you cannot deny the Mouse's influence in shaping Orange County and Southern California.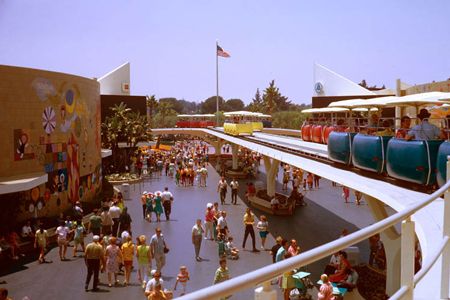 The long gone, but never forgotten Peoplemover at Tomorrowland inside Disneyland, circa 1967. Photograph used under a Creative Commons license.
As July 17, 2015, approaches Disneyland will be celebrating its 60th Anniversary, and here are 18 unique facts about Disneyland, including some bits of information about Disneyland's creator, Walt Disney.
1 - Walt Disney Wanted To Build His Park In Burbank
When Walt Disney had the idea to build his park he was thinking of something closer to his studios in Burbank. The park, which was originally called Mickey Mouse Park, was planned to be built along Riverside Drive.
So, why do plenty of us now have to make the drive down Interstate 5 to Anaheim rather than up the 5 to Burbank? Turns out Burbank officials really did not like the idea of a "carny atmosphere" in their city. Even though there has been some romanticizing of the early days of amusement parks many such places prior to Disneyland, and for a time after, were often seedy places run by shady people that often attracted seedy, shady people (take a look at The Pike in Long Beach). So, with carnivals and amusement parks having this kind of sordid reputation it is easy to understand why Burbank did not want this kind of place in their city.
2 - The Idea For A Place Like Disneyland Came From An Afternoon At Griffith Park
The story goes Walt Disney was spending the afternoon with his daughters at Griffith Park, and as they were riding the old Merry-Go-Round he noticed how parents had nothing to do. Mr. Disney, like the Burbank city officials, also noticed and observed just how bad these amusement parks really were. In an interview Mr. Disney once said,
What this country really needs is an amusement park that families can take their children to. They've gotten so honky tonk [sic] with a lot of questionable characters running around, and they're not to safe. They're not well kept. I want to have a place that's as clean as anything could ever be, and all the people in [Disneyland] are first-class citizens, and treated like guests.

Furthermore, according to a 1963 Canadian documentary Mr. Disney said,

It came about when my daughters were very young and Saturday was always daddy's day with the two daughters. So we'd start out and try to go someplace, you know, different things, and I'd take them to the merry-go-round and I took them different places and as I'd sit while they rode the merry-go-round and did all these things… sit on a bench, you know, eating peanuts. I felt that there should be something built, some kind of amusement enterprise built, where the parents and the children could have fun together. So that's how Disneyland started.

Well, it took many years… it was a period of maybe 15 years developing. I started with many ideas, threw them away, started all over again. And eventually it evolved into what you see today at Disneyland. But it all started from a daddy with two daughters wondering where he could take them where he could have a little fun with them, too.
The very bench from Griffith Park is on display at Opera House on Main Street, U.S.A. at Disneyland with a plaque that reads, "The actual park bench from the Griffith Park Merry-Go-Round in Los Angeles where Walt Disney first dreamed of Disneyland."
3 - Walt Disney Did NOT Name Katella Ave. After His Daughters
Many Disneyana fans and cast members alike often pass along the story that Katella Ave. in Anaheim was named after Walt Disney's daughters, Kate and Ella. Well, it is just that, a story. The name Katella goes way back before Mr. Disney had anything to do with Anaheim, or even the Mouse in his mind.
John and Margaret Rea, and their daughters, named coincidentally Kate and Ella, moved to Anaheim in 1896, and Mr. Rea knew their walnut ranch needed a name, but he wanted a more interesting, memorable name than simply, Rea Ranch.
According to the October 1989 issue of Orange Coast Magazine, Mr. Rea came up with the name like this,
One evening, the girls were out in the yard when their father called them to dinner. "Kate—Ella, supper!" he called. Suddenly he had an idea. "I have chosen the name," he announced. "Katella." The girls were delighted and a big sign went up at the entrance to the family's land: Katella.
It was kind of a neat name, and the Anaheim powers that be back then thought so, too. In the early 1900s a school was name Katella School, and by 1934 Katella Ave. came to be.
4 - The Underground World Under Disneyland Does NOT Exist
If you grew up in Southern California you probably heard a very popular legend about Disneyland, and that is under "The Happiest Place On Earth" is a complete underground world. Well, that is not true as there is no underground world under Disneyland. There are a couple small passage ways under Disneyland, and that is about it.
It is certainly possibly many people are confusing Disneyland with another Disney park. Walt Disney World, located in another Orange County across the country, does indeed have its own underground world, but only it is not underground. Rather, Walt Disney World's Magic Kingdom is built atop of a building that houses its underground complex, which, according to HiddenMickeys.org, "consists of 15 foot high walkways, meeting rooms, computer rooms, etc. with all having exposed utilities (it somewhat resembled a parking garage). "The tunnel complex originates from the castle and spreads out like spokes from a wheel to the other lands. In fact, the bottom two floors of the castle consists of the tunnel complex."
The ground in Florida is not stable enough to build an entire complex literally underground.
5 - Walt Disney Being Buried At Disneyland Is NOT True
There are a lot of strange rumors about Walt Disney's body, such as it is being frozen and one day he will be brought back to life. One of the more common myths is Mr. Disney is buried somewhere at Disneyland, but that is not true. Mr. Disney is not buried on the grounds of his creation in Anaheim or frozen at some mysterious lab, but is buried at Forest Lawn in Glendale.
6 - Walt Disney Was NOT An Anti-Semitic
Oy Vey! There have been a lot of wild, and down right hilarious allegations made about Mr. Disney, but one of the more serious rumors about Mr. Disney is he was not a fan of the Jewish people. That, gladly to say, is false. As Neil Gabler notes in his 2006 book, Walt Disney: The Triumph of the American Imagination, Mr. Disney really was not Anti-Semitic, and had plenty of Jewish people working for him. People who knew him and worked with him never really noticed any hints of Mr. Disney being Anti-Semitic. Furthermore, any Jewish people who worked for Mr. Disney were given Jewish holidays off. At the time what struck people as odd was the Walt Disney Studios were the only major studios not run by Jewish People.
7 - Disney Did Not Own The Disneyland Hotel Until 1988
The Disneyland Hotel has been apart of the Anaheim landscape nearly since the park's opening, but Disney did not own The Disneyland Hotel until 1988, because Mr. Disney did not have the money to build it. Mr. Disney knew the little citrus city of Anaheim was some ways away from The City of Angels and other population points, and he wanted visitors to his park to have a place to stay nearby. The problem was building Disneyland caused Mr. Disney to run out of money, and so he turned to some friends in show business for some financial backing.
Mr. Disney first turned to his friend Art

Linkletter, but he declined as Mr. Linkletter did not have faith in Disneyland's success. Years later Mr. Linkletter would walk around the park saying, "and that's another million I missed out on."
So, Mr. Disney turned to another well connected friend to finance The Disneyland Hotel, Jack Wrather. Mr. Wrather liked what Mr. Disney was doing and provided the finance needed, but under the agreement the producer of Lassie would own the hotel on West Street across from Disneyland. It was under Mr. Wrather that The Disneyland Hotel saw its major expansions.
Some years later when Mr. Disney had the money to buyout Mr. Wrather's ownership of The Disneyland Hotel the film producer and oil millionaire refused to sell. That would be the case until the death of Mr. Wrather's wife, Bonita Granville, in 1988. Mr. Wrather passed away in 1984, two weeks after Michael Eisner took over Walt Disney Productions, and Mr. Wrather saw to it his wife would hold ownership of the hotel until she decides otherwise or dies.
8 - One Of Disneyland's First Financial Backers Was ABC
Today ABC/Disney is one of the world's largest media conglomerates, but in late 1953 Roy Disney met with the then fledgling American Broadcast Company, after meeting with CBS and NBC, to help finance this place called Disneyland. In 1954 ABC agreed to invested $500,000 in Disneyland, which resulted in ABC taking a 34.49 percent ownership and guaranteeing $4.5 million in bank loan, plus $5 million a year for a weekly television program for ABC produced by Walt Disney Productions.
This, of course, explains why the infamous opening day of Disneyland was aired on ABC, with much of the equipment being provided by KABC-TV.
In June 1960 Walt Disney Productions completed the purchase of ABC's share of the company for nearly $7.5 million. It would be the summer of 1995 that Disney would buy ABC from Capital Cities, and the Mouse and Alphabet would be reunited and live happily ever after.
9 - The Original Name For Disneyland Was, Disneylandia
Before Mickey Mouse Park and after Disneyland came the name, Disneylandia. Why the name change? Well, in 1954 ABC urged Mr. Disney to change the name from Disneylandia to Disneyland. Mr. Disney listened to ABC's advice, and changed the name.
10 - The Gold Trimmings Outside Of It's a Small World Are Made Of Real 22 Karat Gold
According to Disneyland officials, "For weather durability and un-excelled beauty, 22 karat gold leaf was used for trim throughout the facade." Gold leaf, by the way, is real gold.
11 - Walt Disney's Second Home Was In Anaheim
It is unclear if Mr. Disney was ever officially counted by the United States Census Bureau as being an Anaheim resident, but when he was not riding the Little Engines in his

Holmby Hills backyard, or at work over at the Walt Disney Studios in Burbank, he was spending a lot of time at his other home. His other home was his apartment atop of the Disneyland Fire Station on Main Street, U.S.A. in Anaheim.
12 - The Matterhorn Has Many Records
The Matterhorn is one of Disneyland's most iconic attractions, and when the ride opened in 1959 it broke many records. The Matterhorn was the first

tubular steel track roller coaster in the world, and was the first roller coaster able to have multiple cars on the same track.
When The Matterhorn was finished it was the tallest structure in Orange County standing at 147 feet. As Orange County fell to suburbanization by the mid-1960s The Matterhorn would lose the title of being the tallest structure in Orange County.
13 - The Reason For A Basketball Court Inside The Matterhorn Is So The Attraction Could Be Built... Is False
A popular legend told over and over again is the reason Mr. Disney had a basketball court built inside The Matterhorn is the Anaheim building code at the time did not allow structures that tall unless it was a sports facility. The story goes is that upon learning what Anaheim's building code requires Mr. Disney told his construction workers to put a basketball court inside The Matterhorn, and now, just like that, it is a sports facility that satisfies the Anaheim building code.
The reality is Anaheim never had such a building code, and the basketball court was put in for The Matterhorn cast members to help pass the time during their breaks.
14 - Cats Keep The Mouses Out Of Disneyland
About 200 feral cats roam the Disneyland Resort keeping rodents out of the park. Sometimes if you know where to look you can see the cats. Mickey and Minnie Mouse do not seem to be bothered by the cats, and Pluto and Goofy do not ever seem to chase the cats out of the park.
15 - Walt Disney Spent Time With Disneyland Guests
Mr. Disney would walk around his creation and even would stand in line with the guests talking with them. Part of this was good public relations, but much of it had to do with Mr. Disney genuinely wanting to create the best place ever. Mr. Disney would walk around looking for problems or things to improve, and Mr. Disney always welcomed suggestions by his guests.
16 - When Disneyland Opened In 1955 It Was Just One Dollar For Admission
With admission fees today going into three-to-four digits, depending how many tickets, excuse me, Passports you are buying, it is amazing to think it was just one dollar for admission, and only 50-cents for children. Today, once inside Disneyland, it is very difficult to find anything for just a dollar.
17 - What Does Disneyland And Knott's Berry Farm Have In Common?
The founders were both named Walt, or Walter to be precise. Walt Disney and Walter Knott, besides having the same first name, were actually good friends. In fact, Mr. Disney invited Mr. Knott to the opening day of Disneyland.
18 - What Was Walt Disney's Biggest Regret When It Comes To Disneyland?
Mr. Disney's biggest regret about Disneyland was never being able to buy more land. Mr. Disney was barely able to make ends meet when building Disneyland, as evident by needing financial backers such as ABC and Mr.
Wrather, and so buying more land was out of the question. Mr. Disney was not too happy when tourist traps and Las Vegas style motels began building around Disneyland, not to mention the tract-housing and general suburbanization of Orange County popping up around and at the edge the park. Ideally, Mr. Disney wanted Disneyland to be isolated from "The Real World," and he was unhappy that buildings from the outside could be seen from inside Disneyland.
By the time Mr. Disney could buy up more land much of the area around Disneyland in Anaheim had been bought and built upon by other developers.