PACIFIC COAST HIGHWAY AND NARBONNE AVENUE - A couple miles west off The Harbor Freeway going westbound along P.C.H. you find yourself driving across a city tucked between the city of Los Angeles' Harbor City (or is it Harbor Gateway), The South Bay and The Palos Verdes Peninsula called, Lomita.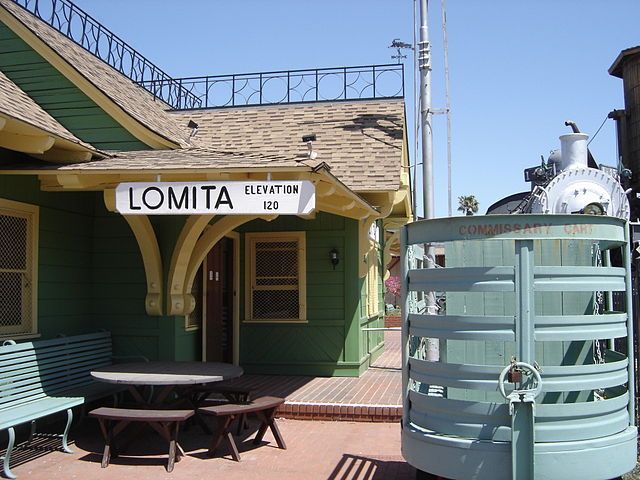 The train depot at The Lomita Railroad Museum. Has this train depot always been in Lomita? Read more to find out. Used under a GNU Free Documentation License.
Like many places across Southern California at first glance Lomita may seem like your typical Southern California suburb, but, like many places throughout Southern California, Lomita, this city of a little over 20,000 residents, has some interesting history and unique connections to some famous people.
If you woke up today thinking, "One day I would really like to know more about Lomita," well, your day has finally arrived, because it is with great pleasure to present you with nine interesting facts about Lomita, otherwise known as, "The Friendly City."
1 - Where Does The Name Come From?
The name itself, Lomita, derives from Spanish, meaning, little hills. Now, just who first officially named the area Lomita is up for debate, and makes for great debates at the Lomita Historical Society. According to Lomita resident and Lomita Historical Society member Brian C. Keith,
One source claims Lomita was named by the early promoters of the district as they surveyed it from a hillside in Rancho Palos Verdes. Another source claims that "Lomita del Toro", or "little hills of the bull," appears on an early surveyor's map of Rancho San Pedro, just a few miles east of the present day city, implying that Lomita inherited its name from the local fauna.
2 - Torrance Is Kind Of To Blame For Lomita Becoming A City
If there is blame to be assigned how and why Lomita became a city then much of that blame is on the hands of the big South Bay city, Torrance. Lomita originally spanned about seven square miles in unincorporated Los Angeles County, but as Torrance was growing they incorporated more and more of what was considered Lomita. After the end of World War II much of Southern California saw a housing building boom, and Torrance wanted more incorporated city for its growing city. In what remained of then unincorporated Lomita there were plans to build dense housing and high-rise apartments. Lomita's then current residents really did not like this idea, because most of them preferred the "small town" feel and many Lomita residents associated large apartments with the "swinging" lifestyle. After a couple set backs, and fending off Torrance eating up the remains of Lomita, and perhaps using the nearby "Lakewood Plan" as a template on how to become a successful city, on June 30, 1964, Lomita became an incorporated city.
3 - Little Lomita Was Once A Big Farming Town
A little bit before World War II during the 1930s the little town of Lomita was a major supplier of vegetables in the late 1920s and throughout much of the 1930s. At one point Lomita had the unofficial name of, "Celery Capital of the World." At the time most residents of Lomita worked in farming related industries.
4 - Narbonne Avenue Is Named After...
Narbonne Ave. and Narbonne High School in Lomita is named after, Nathaniel A. Narbonne. A sheep rancher who came south from Sacramento in 1852 after trying his luck in "Gold Rush country" Mr. Narbonne acquired about 3,500 acres in 1882 in what is mostly modern day Lomita. Lomita was just a small part of the of Rancho San Pedro, which was granted by the Spanish Empire to Juan Jose Dominguez by King Carlos III of Spain in 1784. The Spanish land-grants by 1860 were facing many problems, including drought, too much rain (both of those seem to be a reoccurring theme in California) and tax issues, among other problems. What were the rancheros problems became Mr. Narbonne's gain.
Available records show Mr. Narbonne did not have much luck in the mountains outside Sacramento striking gold, as was the case with many people hoping for quick riches in The Golden State, but Mr. Narbonne did have luck with sheep and wheat. Coming into Southern California Mr. Narbonne worked with and soon teamed up General Phineas Banning in Wilmington growing wheat and raising sheep on Santa Catalina Island (which is not really "26 miles across the sea" as the song sings, but that story is for another time). With fortunes made in wheat and sheep across the sea Mr. Narbonne bought the land in 1882 that would many decades later become the city of Lomita.
5 - What Does Lomita Have To Do With Japan?
Established as a sister city in October 1981, Lomita became a sister city to Takaishi, Osaka, Japan.
6 - The Gumm Sisters Performed At The Lomita Theater
Located on Narbonne Ave. near 243rd Street was The Lomita Theater, and in 1935 a vaudevillian named Frank A. Gumm rented out theater to showcase the talent of his daughters, Mary Jane, Dorothy Virginia, and Judy. Judy Gumm would soon change her name to, Judy Garland.
7 - From Old Glamorous Hollywood To Old School Punk Rock
Lomita is generally considered to be apart of the South Bay, and a lot of punk rock bands came out of The South Bay, probably the most notable was Black Flag. There was another famous famous punk rock band to come out of the South Bay, and one of those bands came out of Lomita, which was, The Descendants. Lead singer Milo Aukerman was from Lomita, and him and his band-mates spent many days, and many nights, at his Lomita house practicing. Lomita's Mr. Aukerman soon went to college, and earned his doctorate in biology from University of California at San Diego.
8 - There Is A Train Museum In Lomita
It has been there since 1967, but it seems like a good many people do not know that there is a train Museum in Lomita, The Lomita Railroad Museum. Yes, there are a couple train museums in Southern California, The Orange Empire Railway Museum in Perris, and Travel Town at Griffith Park in L.A., but what makes this museum unique is it is purely, "dedicated to the proud era of the steam engine," according to the museum. The colorful replica depot and piped in sounds of the old steam engines give it a Disneyland sort of feel, but there is much to learn and explore. Future museum expansion plans are in the works, which would also be home to the Lomita Historical Society.
At first glance the train depot at the museum may look like a nicely restored train station that once served Lomita, but, prior to the museum being built, there never was a train depot in Lomita. You would be forgiven for mistaking Lomita had its own restored train depot as there are several similar restored and kept up train depots around Southern California. What looks like the old Lomita train depot was really a replica of the Boston & Maine's Greenwood Station in Wakefield, Massachusetts, and that depot in Wakefield was built before the turn of the century. Museum founder Irene Lewis, whose husband Martin Lewis developed and invented Little Engines, which are those little trains you can ride at Griffith Park on Sundays, was looking for authenticity when developing the museum and spent some time and research to figure out just the right building for the museum.
You should go to the museum, and when you decide to visit The Lomita Railroad Museum do know that it is open Thursday through Sunday, 10 a.m. until 5 p.m.
9 - The Lomita Railroad Museum Is Still Looking For "The E Ticket"
The Little Engines developed by Martin Lewis became a good, successful business for the Lewis family, and one person Mr. Lewis sold some of his Little Engines to was one big rail fan, Walt Disney. Mr. Lewis and his Little Engines found their way onto Mr. Disney's Holmby Hills backyard. The man behind the Mouse soon became good friends with the Lewis family. Mr. Lewis past away in 1949, but Irene Lewis kept the Little Engines business going. Being such good friends with the Lewis family Mr. Disney gave Ms. Lewis a ticket to the opening day of Disneyland on, July 17, 1955.
The Lomita Railroad Museum is still looking for that ticket. If you have any information please contact the museum.