BUENA PARK - For many years it was thought of Disneyland's quirky, perhaps eccentric older brother with a museum, insects and science exhibits, but, to the chagrin of many, for well over ten years now Knott's Berry Farm has transformed into someplace resembling Six Flags Magic Mountain.
At least one museum inside the park still stands, as does the replica Independent Hall across the street, but the science exhibit building is gone, as is the place to checkout insects, along with other rides and attractions that made Knott's Berry Farm a unique place. If you have not been to Knott's Berry Farm in well over a decade you may be in for bit of a shock seeing the steel leg of a modern roller coaster in the middle of Ghost Town. It is becoming a shell of its former self as nowadays Knott's Berry Farm is a place more for thrill rides that you can find at many amusement park around the world rather than a place for offbeat, unique attractions.
What happened? Well, in the late 1990s the Knott family decided to put the Farm on the market. Disney was interested in buying the park, but the Knott family feared Disney would, well, dramatically "Disneyfy" the place, and so they refused to sell to Disney. An offer finally came through, and in 1997 Cedar Fair Entertainment Company bought Knott's Berry Farm for $94.5 million, and the Knott family acquired two million ownership shares in Cedar Fair.
Since Cedar Fair bought the park the Knott's Berry Farm many people in Southern California grew up with and remember has been fading away, and replaced with something that resembles a different park.
However quickly fading it may be Knott's Berry Farm is still a historical place with a fascinating history, and here are five things you may never have known about Knott's Berry Farm.
1. There is something Disneyland and Knott's Berry Farm have a common. Can you think of it? Well, both of their creators were named Walter! Walter Knott and, of course, Walt Disney. Though they were competitors Walter and Walt both greatly respected each other, visited each other's parks, shared some ideas, and sometimes shared employees.
2. Knott's Berry Farm began as a very small roadside stand in 1920 along State Route 39 selling, but what else, berries, berry preserves and pies. Roadside stands selling such things were common in this era, but what made the Knott's roadside stand stick out was Walter Knott's wife Cordelia wrapping the berries up in nice, sometimes colorful plastic bags. In an era when mandated food safety standards were not quite en vogue having food wrapped up in a package gave it the appearance that it was sanitary, and thus a very big selling point.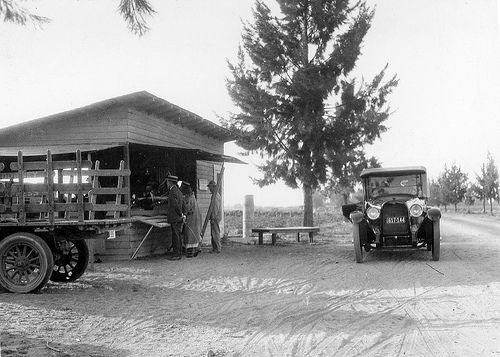 The Knott family roadside stand along Highway 39 (still state route 39, but better known now as Beach Boulevard) circa 1927. Photograph courtesy of the Orange County Archives.
3. Knott's Berry Farm was an actual farm (you probably knew that) and Walter Knott, with the help of George M. Darrow of the USDA, brought back to life some dying vines that Rudolph Boysen brought with him when he moved to Anaheim from Napa. These vines contained a hybrid of blackberries, raspberries, and loganberries. Knott brought these vines back to life at the little farm in Buena Park, began selling them in 1932, and they became a big hit. The story goes Knott was asked what they were and he said, "Boysenberries."
4. Walter Knott was a Southern Californian from birth to death. Knott was born in San Bernardino on December 11, 1889, raised in Pomona, and passed on in Buena Park on December 3, 1981 (and no, Walter did not die at Knott's Berry Farm).
5. On the way to Las Vegas, just a little ways past Barstow, you have probably noticed, and probably visited, the old ghost town of Calico. There was a time in the 1930s and 1940s the old ghost town was falling apart, but of course in that time period there were some other pressing concerns. Well, as the post-war years set in come 1951 Knott bought the town of Calico and restored the old buildings. By 1966 Knott donated Calico to San Bernardino County, and shortly there after it became apart of the San Bernardino Regional Park system. Knott was familiar with Calico, because in 1915 while living in nearby Newberry Springs with his wife Knott helped build a new gold cyanidation plant in Calico. It is probably a safe bet that Calico was a major inspiration for Walter Knott and the park he would create.
Knotts' as many of us remember it. A 1985 Knott's Berry Farm map. Author's collection; no copyright infringement intended.