(This is an occasional series exploring the many earthquake fault lines in and around Southern California.
This series is not intended to be a scholarly, scientific review of earthquake faults throughout Southern California, but hopefully will be a jumping off point for you to understand and further explore the fault lines that cross Southern California.
)
BREA - Standing in the parking lot of the Brea Mall turning your head from the southeast to the north and slowly to the northwest you see vivid brown hills dotted with trees and homes lining the landscape. These hills provide a natural border between Orange County and the Inland Empire, and Orange and Los Angeles Counties. Like many of the hills and mountains that provide a majestic backdrop for Southern California there is a hidden danger in the hills, which resulted in the creation of these hills.
As geologists and seismologists have pointed out, anytime you see a hill or mountain in California chances are very good you are looking at an earthquake fault. If you are in Orange County looking at the hills above Brea, Yorba Linda and La Habra, or in the San Gabriel Valley checking out the hills that sort of parallel State Route 60, you are looking at the work of the Whittier Fault.
How Often Do Big Quakes Happen?
Like many earthquake faults in Southern California there are some things known about the Whittier Fault, but a lot that is not known about the fault. One of the most important things not known about this fault is the interval between major ruptures. What is known are United States Geological Survey studies showing the Whittier Fault is capable of producing an earthquake between 6 to 7.2 on the moment magnitude scale.
What all that means is this, the USGS currently has no data on how often the Whittier Fault produces a major earthquake, and that is rather unfortunate, because that would give seismologists a rough forecast of when the next major quake may strike.
About the only thing USGS knows about the last major earthquake on the Whittier Fault is that it occurred sometime in the last 10,000 years, otherwise known as the current Holocene era. As well, the slip rate is about 2.5 and 3.0

millimeters per year, according to USGS.
Where Is The Whittier Fault?
The fault line is a branch of the quiet giant Elsinore Fault, and going east-to west the fault begins just north of SR 91, up and above Gypsum Canyon Road at Bryant Ranch Park near Bryant Ranch Elementary School in Yorba Linda. Going in a west-northwest direction the Whittier Fault runs on the southwest section of Chino Hills State Park, crossing through Carbon Canyon Regional Park and crossing Carbon Canyon Road/Lambert Road. The fault continues to run in a northwest direction in the hills above Lambert Road and crossing very close to Brea Olinda High School, then crossing SR 57, crossing into the Humble Reservoir, crossing Brea Boulevard, and going in a more northwest direction into the hills above La Habra, crossing Harbor Blvd just south of Vantage Pointe Drive.
From that point the fault continues to run in a gentle northwest direction crossing "E" Road north of the Hacienda Golf Club into La Habra Heights, crossing Hacienda Road at about Skyline Drive going into Arroyo Pescadero Trail and then crossing Colima Road just south of Casino Drive. The Whittier Fault makes a more sudden northwest turn into Turnbull Canyon, crossing Turnbull Canyon Road/Beverly Blvd. and ending at Hellman Wilderness Park in the hills above Whittier.
Just How Bad Could A Big Quake Be?
A major rupture on the Whittier Fault could end up being a historic American disaster.
A scenario by USGS predicts that if a M6.8 occurred at 5 p.m. on the Whittier Fault there would be 9.450 injuries and fatalities, and predictions of building damage to be nearly $20 billion.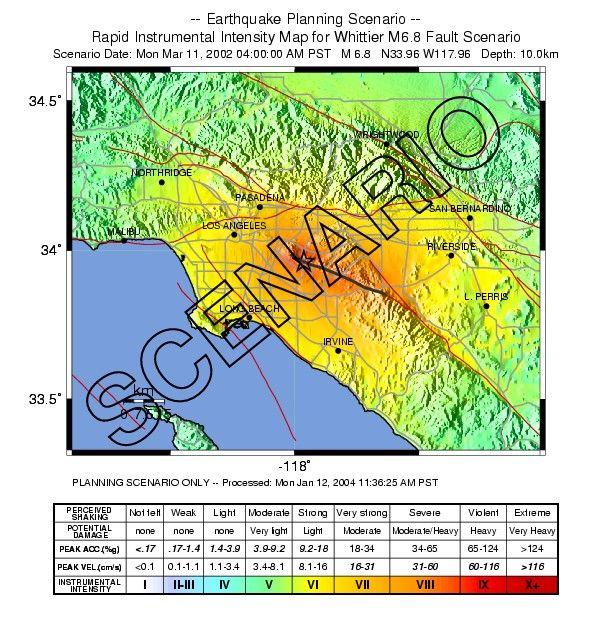 USGS Whittier Fault earthquake scenario map. Shown for educational and informational purposes only; no copyright infringement intended.
It is important to understand that anytime you get at or above a magnitude 6 that occurs in an urbanized area you begin to see structural damage, even in a place like Southern California, which is suppose to be "built" to withstand a major earthquake.
Also, remember that the Whittier Fault runs near several of Southern California's older neighborhoods and old downtown areas, such as Fullerton, Orange and Whittier, and a major event on the Whittier Fault could severely impact those places and older neighborhoods in the San Gabriel Valley. Depending on the dynamics of a major earthquake on the Whittier Fault it is certainly possible the old downtown areas of Pomona, Claremont and Ontario could see structural damage.
Again, depending of the dynamics of a major rupture on the Whittier Fault, it is very possible that even L.A. proper could see structural damage.
What it comes down to is the Whittier Fault has the potential to cause major damage in the four county L.A. metro area.
Possible Major Freeway Damage
Let us not forget if there is a major rupture on the Whittier Fault that breaks on the surface the 57 freeway could see major damage. You add major damage on the Orange Freeway, along with possible major damage on the streets that connect L.A. and Orange Counties through the hills, and perhaps possible damage on the Riverside Freeway, you have the makings of a major commuter nightmare that could result in more economic losses.
The 60 freeway, which seems to be the choice of truckers shipping goods from the Port of L.A. and Long Beach to the Inland Empire and points east, could also be structurally impacted by a major Whittier Fault event. It is not far fetch to say damage on the Pomona Freeway could reverberate throughout the nation.
Not At Fault
If you grew up in Southern California you probably remember the 1987 Whittier Narrows Earthquake, but it is worthy to note that earthquake was not on the Whittier Fault, but rather ruptured a small and previously unidentified, gently north-dipping,west-striking thrust fault, according to USGS. Seismologists originally thought this earthquake was caused by the Elysian Park Fault.
Furthermore the somewhat recent 2008 Chino Hills Earthquake, which was the last magnitude 5-plus to occur in the L.A. basin, is not believed to be the work of the Whittier Fault nor Chino Fault.
What Can You Do?
All you can do is prepare. Prepare for the next major earthquake on whatever known or unknown fault it occurs on in Southern California.
No One Knows When!
At this time, and unfortunately probably for many years to come, there is no accurate way to predict when any earthquake is going to strike. The only earthquakes that can be predicted are aftershocks, and sometimes those can take geologists and seismologists by surprise.
Despite what any person or any group claims about predicting earthquakes at this time, quite frankly, there have been no proven concrete methods to accurately predict earthquakes.
The bottom line, you just need to prepare.