(This is the first in an occasional series exploring the many earthquake fault lines in and around Southern California.)
ALONG THE EASTERN EDGE OF THE CLEVELAND NATIONAL FOREST - Today, like everyday before and after, the Earth keeps spinning and tectonic plates keep slowly sliding by each other. In our part of the world it is the Pacific Plate slowly sliding north along the North American Plate, and sometimes the sliding and grinding of those two plates make its presence known in Southern California in the worst way possible.
(As the Pacific Plate slowly inches its way north in many millions of years from now Southern California will become apart of the Bay Area, and finally have a NFL football team).
It has now been over 20 years since the Los Angeles Basin experienced a severely damaging earthquake, and nearly 15 years since a magnitude 7 earthquake occurred within Southern California. Aside from the passing minor jolt here and there the ground under Southern California has been quiet, and that worries some seismologists at the United States Geological Survey. Now they are not worried that all this quietness means a big quake, or "the big one," is coming. Rather, since it has been so quiet and Southern California has not had any real notable earthquake in many years USGS officials are worried that some people may not be taking earthquake preparedness seriously.
We know Southern California brings in transplants from all over the country and the world, and hopefully they learn a little bit of history on their new home and realize historically Southern California is disaster prone.
In this Knowing Your Faults series since it has been so seismically quiet we figured the best way to start this series is to explore one of the "quietest" faults in Southern California, The Elsinore Fault.
The Elsinore Fault is a major fault system, and in fact it is one of the largest faults in Southern California capable of producing a major earthquake, but for such a large fault it has been very seismically inactive.
Why So Quiet?
Well, geologists and seismologists are not entirely sure. There are a lot of working theories why the Elsinore Fault may be so quiet. One of the floating theories is the San Jacinto Fault and Newport-Inglewood Fault may possibly be taking stress off The Elsinore Fault. It is one of many mysteries of earthquakes that have yet to be solved.
Where Can You Find the Fault?
Going from south-to-north The Elsinore Fault starts at the southern section of Anza-Borrego Desert State Park, just a few miles north of Interstate 8, and runs in a northwest direction skirting the northeast side of Cuyamaca Rancho State Park, through Palomar Mountain State Park, through Temecula, crossing I-15 and seemingly paralleling I-15 a couple miles west of the freeway with the fault going through Murrieta, Wildomar, Lake Elsinore, and into southwest Corona.
It is in Corona where the Elsinore Fault splits into two separate faults, the Chino Fault going northwest and the Whittier Fault going in a west-northwest direction. Both faults cross State Route 91.
It is the Elsinore Fault that helped create the Cleveland National Forest, and what amounts to a natural, mountainous border between Riverside and Orange Counties.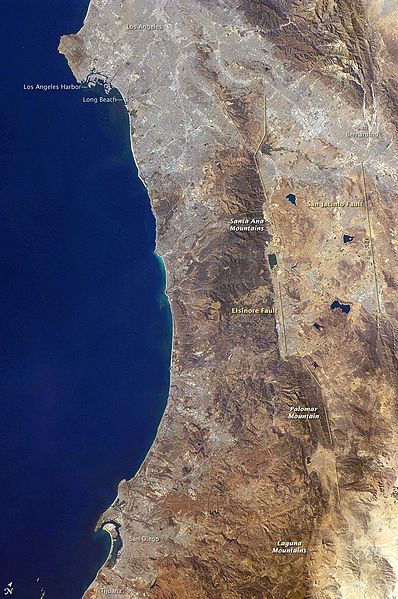 NASA Photograph. Shown for educational purposes only; no copyright infringement intended.
Just How Bad Would Such a Quake Be?
Should the day come when the Elsinore Fault decides to wake up with a bang seismologists at the Southern California Earthquake Data Center believe the fault is capable of producing up to a magnitude 7.5 earthquake.
As USGS Doctor Lucy Jones told the San Diego Union-Tribune in 2005, "In Temecula, the 7 on the Elsinore will be much worse than the 8 on the San Andreas."
Should there be a major rupture of the Elsinore Fault at around magnitude 6.8 heavy damage is expected along the I-15 cities through Riverside County, and moderate to major damage is expected in central Orange County, according to studies by the Southern California Earthquake Data Center. The same study shows injuries and fatalities to be at 9,495, and damage to be near the $20 billion mark.
If a large earthquake occurs there is also the possibility of major damage along the Riverside Freeway through the Santa Ana Canyon, which would bring extraordinary havoc to the entire Southern California freeway system.
Of course freeway problems may be the least of problems as a large earthquake could possibly break Diamond Valley Lake's 284-foot-high dam, and within ten minutes could flood the Riverside County cities of Menifee, Winchester and French Valley, according to Riverside County Emergency Service Director Mary Moreland
.
The above is presuming The Elsinore Fault ruptures on its own fault in western Riverside County. There have been scenarios floated by USGS that the north end of The Elsinore Fault could rupture in Corona and the rupture could continuing "moving" along the either Chino Fault or Whittier Fault.
The Elsinore Fault Earthquake History
So, just how often does the Elsinore Fault move? According to USGS studies the interval between ruptures is about 250 years.
Just when was the last rupture, well, USGS studies put it somewhere in the 18th Century.
The last notable earthquake on the Elsinore Fault was a magnitude 6 near Temescal Valley in 1910.
Based on these studies it is believed the Elsinore Fault, like so many earthquake faults in Southern California, is likely overdue for a major earthquake.
When Is It Going To Happen?
With any basic knowledge and understanding of earthquakes your guess, quite frankly, is about as good as those at USGS.
When it is going to happen nobody knows, and at this time there is no accurate way to predict earthquakes.
All you can do is be prepared, and know the hazards of where you live and work.
Editors Note: While this series is not intended to be a scholarly, scientific review of earthquake faults throughout Southern California, we hope this series will be a jumping off point for you to understand and further explore the fault lines that cross Southern California.