AT A CLINIC SOMEWHERE ON VALLEY BLVD - If you have not already felt the pinch in your arm then it is time for you to go get a flu shot. It is a very nasty flu season bringing a lot of people down, including the guy on the other end of the computer typing up this piece.
Not sure where to go get the shot? Well, here is a handy bit of information from the Los Angeles County Public Department. Or not in L.A. County and a little further east along Valley Boulevard, well check out the County of San Bernardino Department of Public Health flu site. Of course if you find yourself south of the L.A. County line in the Orange Curtain please check out the Orange County Public Health Department flu page. Of course if the flu tries to chase you down eastbound along Pomona Freeway or Riverside Freeway do visit the Riverside County Department of Public Health for information how to get a flu shot for you.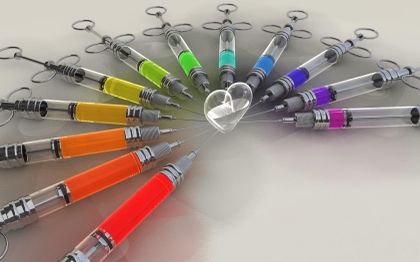 Author unknown. Shown for educational purposes only; no copyright infringement intended.
Shots are very dreadful to be sure, but the flu is much worse. Just make an appointment and get it over with. Your body will thank you, your stomach will thank you, and everybody around you will thank you.
Life is much too short to be ill for too long, so break out the needle, drop it on your arm and have a ball, please.