COLTON - Motoring rapidly along Interstate 10 perhaps on the way to Palm Springs for some sunshine and retro decor, or maybe you are driving all the way to the I-10's eastern terminus in Jacksonville, Florida, one of the many cities you come across is Colton. A fast glance at Colton shows no more than a typical Southern California suburb that is part of the puzzle piece making up the megalopolis that is the Los Angeles Basin.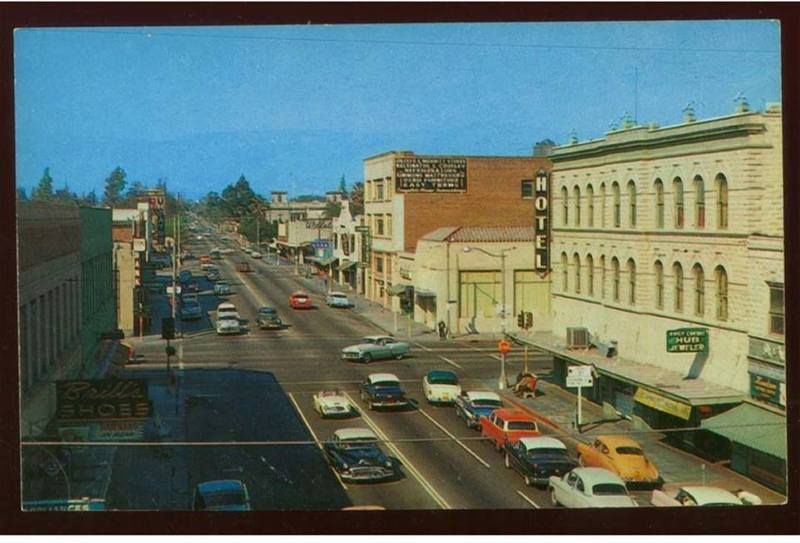 The intersection of what is now Valley Boulevard and La Cadena Drive before the "development bomb" of the 1960s. Used under a Creative Commons license.
As is the case with many places across Southern California there is more to Colton than meets the eye. In fact, would you believe that Colton is connected to Mount Wilson, "MacArthur Park" and the Chicano movement. Sadly, as it also the case with many cities across Southern California, much of that has been erased in the name of progress.
The city, once called The Hub City, which is wedged between the cities of San Bernardino and Riverside, has an interesting background, and here are seven random fun facts about Colton.
1 - The writer of perhaps one of the most perplexing pop songs, "MacArthur Park," made famous twice, first by Richard Harris and later as a disco hit by Donna Summer, lived in the Colton area for a time once upon a time, and his name is Jimmy Webb. Mr. Webb also wrote "Up, Up and Away" as performed by The Fifth Dimension, along with many other songs. Mr. Webb even wrote a song about Colton, "820 Latham Street," perform by The Fifth Dimension and The Brooklyn Bridge, which is apparently the Colton address where the girl of his dreams (and muse of many songs) lived. Turns out the girl of Mr. Webb's dream from Colton soon moved to L.A. and worked near MacArthur Park, which is where Mr. Webb and the girl from "820 Latham Street" in Colton spent many afternoons together.
"820 Latham Street" as performed by The Fifth Dimension and written by Jimmy Webb.
2 - Once upon a time the community of Agua Mansa, now in modern day Colton and the name of a historic cemetery, was the largest town between Santa Fe and Los Angeles, and was a very important place in the Californio era. One Benjamin Davis Wilson, or Don Benito Wilson as he was known to the Native Americans, and who would go on to become mayor of L.A. and whom Mount Wilson is named after, had his life saved here by Lorenzo Trujillo after Mr. Wilson was involved violent battle with a Native American named Joaquin.
3 - Jimmy Webb was not the only musically famous person to come out of Colton. Jim Messina of Loggins and Messina and The Buffalo Springfield is also from Colton.
4 - Virgil Earp, brother of Wyatt Earp, was Colton's first Marshall. The Earp house still stands at 528 West "H" Street in Colton. Please do not disturb the current residents.
5 - Colton was created by promoters of the Southern Pacific Railroad (known in fiction as, The Octopus, by
author Frank Norris), and the name Colton comes from, David Douty Colton, who was the vice president of Southern Pacific Railroad. Southern Pacific intended to make Colton the railroad center of Southern California. Mr. Colton probably made a couple trips to the city named after him, but he lived in San Francisco.
6 - The Chicano movement was, and still is, very strong in Colton. In fact, in clashes with police in 1943 there was even, sadly, a "Colton Zoot Suit Riot." This soon lead to a larger Chicano movement in Colton with protests against the police and demands for better services from the city. The protests were heard, and in the early 1950s a Chicano councilman was elected. By 1979 Colton elected a Chicano mayor and two Chicanos on the City Council, as well as a Chicano school board member. Colton was one of the first cities in Southern California to have such a strong representation of Chicanos in government.
7 - If you have driven through Colton in recent years, or really, for the past 20 years, you may notice it looks nothing like the photograph above. So what happened to Colton's downtown as shown in the photograph above? Well, the short answer is Colton made the decision (or mistake) many cities around the country made, and that was redevelopment. It is way too easy to say today that they should never have bulldozed their downtown, but remember when malls came in vogue that resulted in shoppers and businesses leaving city centers and downtown areas en mass for these new shiny, modern malls. The shoppers and businesses took their dollars with them to these new malls, and many cities, like Colton and even nearby San Bernardino, took the redevelopment route and basically wiped out their old downtown for what was suppose to be a new, modern shopping area that was going to bring business back. In Colton, and San Bernardino, it never quite worked and many long time residents regret the decisions their city leaders made. Some locals and former locals call it, "the development bomb."