WHERE "E" STREET MEETS MILL STREET - Driving along Interstate 10 at quick glance it appears to be just one of the many cities that make up the urban puzzle piece that is Southern California. Yet, as many longtime residents will tell you, San Bernardino
is very much a city of its own that stands out in the Southern California suburban puzzle,
aside from being one of the principle cities in the Inland Empire.
A photograph of the Inland Center Mall circa 1969. Photograph used under a Creative Commons license.
If people in Southern California never quite were familiar with San Bernardino, well, they, along with much of the country, are now very much aware of this city called San Bernardino.
Before Sears moved to the Inland Center Mall it was located in downtown San Bernardino as seen in this circa 1955 photograph. Photograph in public domain.
The Federal Bureau of Investigation uses certain criteria to formally declare a crime to be a "terrorist attack." It appears the recent event in San Bernardino is meeting that criteria set by the FBI. Subsequently, what occurred in San Bernardino on December 2, 2015, may end up being the deadliest terrorist attack within the United States since the terror attacks of September 11, 2001.
Given where the investigation of this mass shooting in San Bernardino, which killed 14 people and injured 21, has led, and where it is continuing to lead, this tragedy has not just national implications, but international implications.
Plenty of things have been written,
from the San Bernardino Sun to The New York Times,
about what occurred and what is continuing to transpire. We are not going to talk about that here. Since the world's eyes are on San Bernardino here are 15 fun facts about San Bernardino, San Bernardino County and the communities around San Bernardino.
The Mountain Goats singing about "San Bernardino."
1 - The First McDonald's Was In San Bernardino
That's right! The mother of fast food, giver of Happy Meals, with all the excitement and controversy that comes with it, began in San Bernardino.
2 - The Rolling Stones Played Their First U.S. Concert in San Bernardin
o
The Rolling Stones at The Swing Auditorium in San Bernardino. Photograph used under a Creative Commons license.
It was San Bernardino radio station K/MEN, back when radio was a really big deal, which brought The Rolling Stones for their very first U.S. performance at The Swing Auditorium in San Bernardino. How this radio station in San Bernardino brought them to the U.S. for the first time is a whole story in and of itself, which we will have in the not too distant future. The short story is, in the wake of The British Invasion K/MEN had a connection in London sending them the latest British hit-makers, and basically looking and hoping to find the next Beatles. Well, K/MEN's London connection sent them an album by "this group that is better than The Beatles," as their London connection described The Rolling Stones. Afternoon K/MEN personality Bill Watson played a cut from the album, suddenly the telephone lines were jammed, and "Mr. Kicks," as Bill Watson was known, did something extraordinarily out of the ordinary for top 40 radio and played the entire album.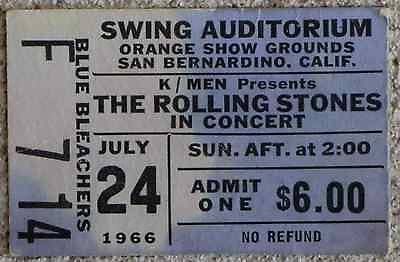 Ticket from a later Rolling Stones performance at The Swing Auditorium. Photograph in public domain.
The Rolling Stones had made plans to tour the United States, but Mr. Watson knew they needed to get this band now! Mr. Watson, calling across The Atlantic, finally got in touch in The Rolling Stones' manager Andrew Loog Oldham. After some deals were cut, and told of the reaction of The Rolling Stones, Mick Jagger and company soon took to the U.S. stage for the very first time in San Bernardino thanks to K/MEN.
3 - Lyndon B. Johnson Had A Job As An Elevator Operator In San Bernardino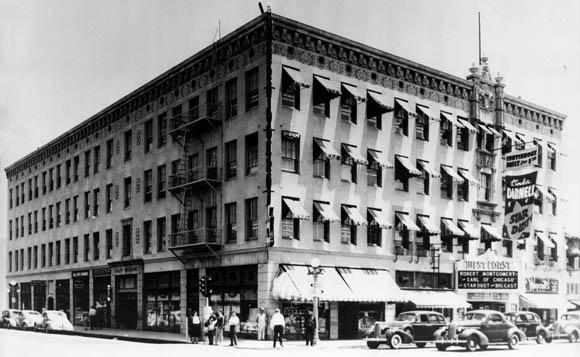 The Platt Building in San Bernardino where a future president once worked. Date of photograph unknown. Photograph in public domain.
Future Vice-President and President
Lyndon B. Johnson once worked as an elevator operator at a San Bernardino building in 1925. During a 1964 reelection campaign stop in San Bernardino LBJ returned to that building, known as the
Platt Building
, to operate the elevator once more in front of a few cameras. The Platt Building fell in 1993 after meeting a demolition team under the names of "progress," "redevelopment" and "improvement." Many longtime residents were too happy with this new "improvement," which is to say it was a very conversational move demolishing the Platt Building. Before the Platt Building was torn down the elevator where LBJ worked was saved.
4 - Home Of The Oldest Operating Jewish Cemetery
The Home of Eternity Cemetery is the oldest operating Jewish cemetery in Southern California. The land was given to the Jewish community from Mormons in the 1850.
5 - The Sun Almost Became Apart of the L.A. Times
The San Bernardino Sun has been for many decades, and continues to be, the dominate newspaper in the San Bernardino area (though in the last decade and a half it has faced stiff competition from The Press-Enterprise). Back in the 1960s the Los Angeles Times' then parent company Times-Mirror made an attempt to buy The Sun, but federal government antitrust officials were not too keen on the idea and thus no sale. Today The Sun is apart of the Los Angeles Newspaper Group, which includes, the L.A. Daily News, and Daily Bulletin, Pasadena Star-News, among other Southern California newspapers.
6 - The Largest City Between L.A. and New Mexico Was Once, Colton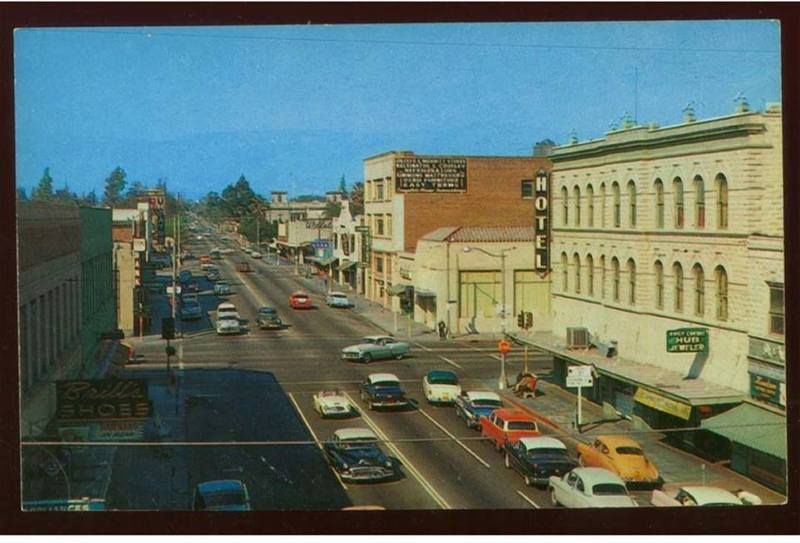 Certainly not Colton during the Californio era, but rather a photograph of downtown Colton from 1955. Public domain.
Near where current day Colton is there was once a town called Aqua Mansa, which was, for a time, the largest town between Los Angeles and New Mexico. It is a very significant place with its roots going back to Californio days. Its residents included the Wilson family and family member Don Benito Wilson. That Mr. Wilson is better known as Benjamin David Wilson who would go on to be the second elected Mayor of L.A., and whom Mount Wilson is named after.
7 - What Does L.A.'s MacArthur Park Have To Do With Colton?
The writer of perhaps one of the most perplexing pop songs, "MacArthur Park," made famous twice, first by Richard Harris and later as a disco hit by Donna Summer, lived in the Colton area for a time once upon a time, and his name is Jimmy Webb. Mr. Webb also wrote "Up, Up and Away" as performed by The Fifth Dimension, along with many other songs. Mr. Webb even wrote a song about Colton, "820 Latham Street," perform by The Fifth Dimension (who had many rehearsal sessions in Colton) and The Brooklyn Bridge, which is apparently the Colton address where the girl of his dreams (and muse of many songs) lived. Turns out the girl of Mr. Webb's dream from Colton soon moved to L.A. and worked near MacArthur Park, which is where Mr. Webb and the girl from "820 Latham Street" in Colton spent many afternoons together. MacArthur Park ended up being a very special place for Mr. Webb and his girlfriend from Colton, and so he wrote a (long) song about it.
The Fifth Dimension singing about that girl who lives at "820 Latham Street" in Colton.
8 - Colton's First Marshall
Virgil Earp, brother of Wyatt Earp, was Colton's first Marshall. The Earp house still stands at 528 West "H" Street in Colton. Please do not disturb the current residents.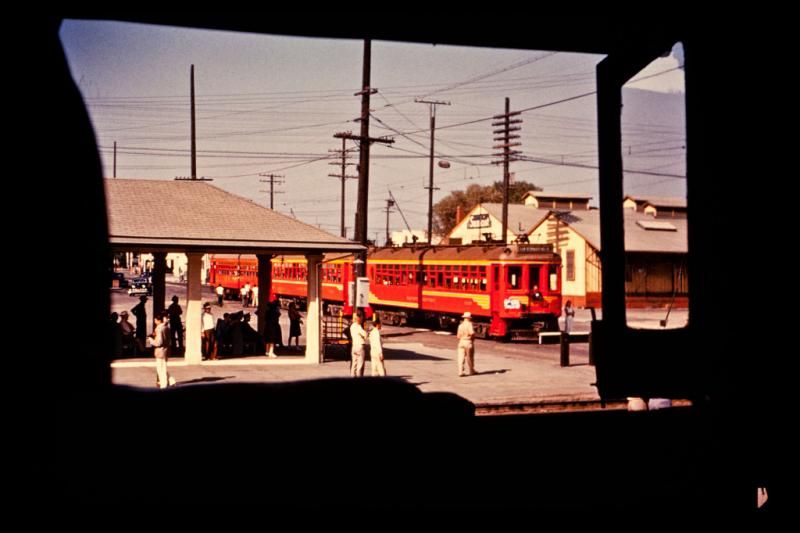 This is a photograph of a Pacific Electric train station in Colton taken long after Virgil Earp was Marshall of Colton. Used under a Creative Commons license.
9 - Home Of The Cursed Fair
Poster for the 1917 National Orange Show. Author's collection.
Most people who grew up or lived in San Bernardino or the Inland Empire for a time will tell you about the "Curse of the Orange Show." Southern California was a citrus empire, and the annual National Orange Show in San Bernardino was a prominent event showcasing the best of the citrus industry. In its glory days "The Orange Show," as so many locals lovingly call it, featured not just A-list stars, but the very top of A-list stars. It was a very glamorous affair, but it always seem to rain on their parade, and many residents say there is a reason for that. Legend has it The National Orange Show Grounds are built atop of a Native American burial ground. The legend goes since it was built atop of Native American burial grounds a curse was placed on the event that makes it rains every time The National Orange Show is held. Records show that in fact, yes, many times during The National Orange Show it has rained. Coincidence?
A 1969 ad in the Los Angeles Free Press for The Jimi Hendrix Experience at The Swing Auditorium. Public domain.
(By the way, The Swing Auditorium, where The Rolling Stones played their first U.S. concert as mentioned above, and, also where many bands came through in the 1960s and 1970s, was located on The National Orange Show Grounds. The Swing Auditorium was destroyed by an airplane crash on September 11, 1981.)
10 - San Bernardino Is Bigger Than Switzerland
If you are a regular driver between Southern California and Las Vegas you probably think San Bernardino County is a very large county. You would be right, because that county in the Inland Empire is the largest county within the lower 48 states. San Bernardino County is larger than many states and even many countries. It is bigger than Switzerland. Its record was beat with the admission of Alaska as a state, which has a much larger county.
11 - The Last Two Big California Earthquakes Were In San Bernardino County
12 - Home Of The Tallest Mountain Peak In Southern California
Many people really do not like earthquakes, and that is very understandable, but earthquake faults give us in Southern California spectacular hills and mountains. One of those mountains is Mount San Gorgonio. Located in San Bernardino County in the San Bernardino Mountains reaching a peak of 11,503 feet Mount San Gorgonio is the tallest mountain in Southern California. On a very clear day you can see Mount San Gorgonio from downtown Los Angeles and by the beach in Santa Monica.
13 - The 100th In The Nation
In covering the tragic event many reporters from around the country and around the world noted that San Bernardino is not quite a small city, and for good reason. According to the 2010 U.S. Census the 100th largest city in the U.S. is San Bernardino. As well, San Bernardino is the 17th largest city in California.
14 - Where Sammy Davis Jr. Lost His Eye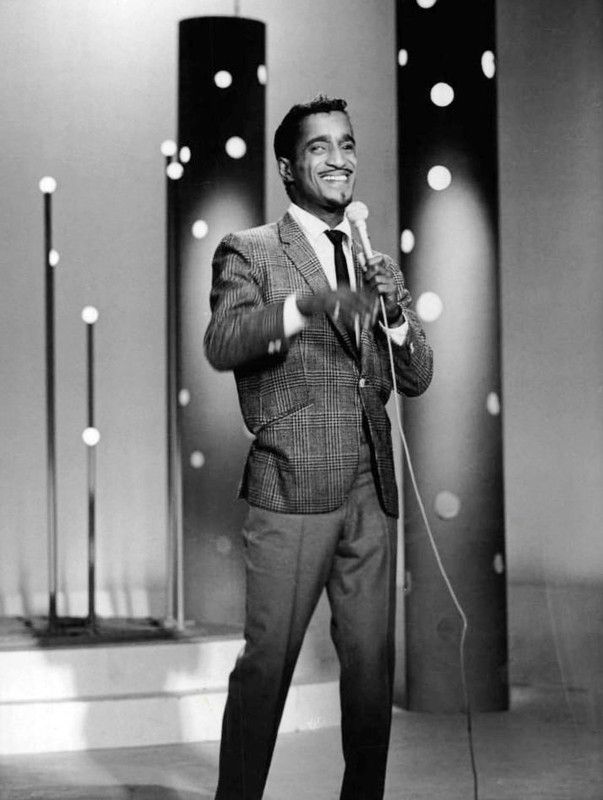 Sammy Davis Jr. performing on NBC in 1966. Photograph in public domain.
In 1954 on the way home to L.A. from performing in Las Vegas Sammy Davis Jr. was in a car accident on Route 66 at Cajon Boulevard and Kendall Drive. That is where Sammy Davis Jr. lost his eye. It would be at San Bernardino Community Hospital where Sammy Davis Jr. would recover. While at the hospital his friend, Eddie Cantor, met with him and talked about the similarities between Jewish and black culture. It was at that moment, so the story goes, Sammy would begin his conversion to Judaism. Sammy was so grateful for the services he received at San Bernardino Community Hospital he held an all-star fundraiser at The Swing Auditorium for the hospital.
15 - Home Of The Hell's Angels
Started by the Bishop family in Fontana the motorcycle club that would set the standard for "outlaw motorcycle clubs" and go on to much notoriety began in San Bernardino County.
Certainly not a tune by The Hell's Angels, but rather, a tune from Frank Zappa, who had a studio in Ontario.